GICJ submits follow-up appeal in view of ongoing persecution of HR defender Issa Amro
Press release
On 26 June 2013, GICJ submitted a follow-up appeal to UN Special Procedures, including the United Nations SR on human rights defenders, the SR on the rights to freedom of peaceful assembly, the SR on Palestine, and the SR on torture and other cruel, inhuman or degrading treatment, in view of the continuing persecution of Mr. Issa Amro, HR-defender and activist, in Hebron/ Palestine and winner of the 2010 OHCHR award "Human Rights Defender of the Year in Palestine".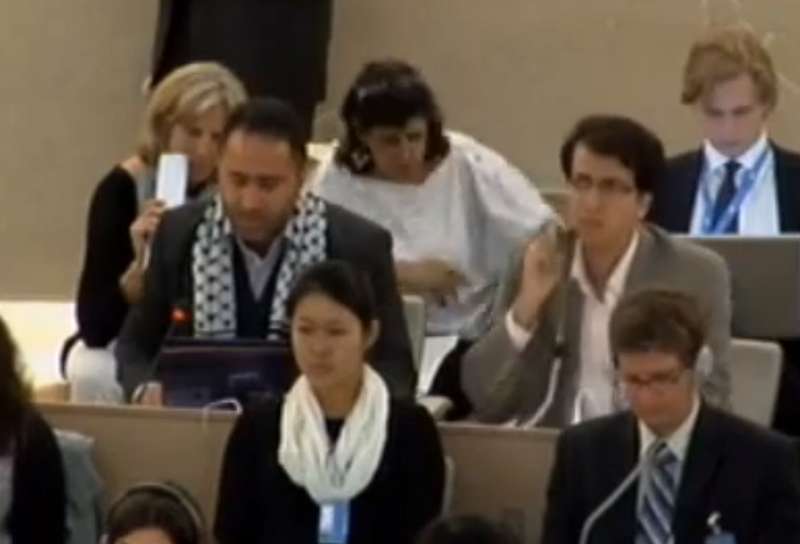 On June 26, 2013 GICJ submitted a follow-up appeal on two urgent appeals submitted on March 28 and April 17, 2013, on behalf of Mr Issa Amro, in view of the ongoing persecution by the Israeli occupation authorities. Since 2003 Issa Amro is become one of the most prominent faces of the popular nonviolent resistance throughout the West Bank and his leading role in the promotion of human rights has made him a constant target for occupation forces and settlers alike, especially as he is working together closely with prominent Israeli organizations such as B'Tselem and Breaking the Silence.
Despite the fact that according to his lawyer all his arrests have been arbitrary and he has never been convicted of anything, Issa Amro received a new summons for a hearing at Ofer Military Court for December 2013. To this day he has not been informed about the reasons. This was two days before he came to Geneva on the initiative of GICJ to attend the 23rd session of the Human Rights Council and address the Council under Item 7, human rights situation in Palestine and other occupied Arab territories.
His statements in the Human Rights Council can be seen here:
•    Agenda Item 7, ID on Palestinian territories
•    Agenda Item 7, GD on Palestinian territories
Along with Dr. Richard Falk, the SR on Palestine Issa Amro held a presentation on human rights in the oPt during a side event organized by GICJ on 11 June 2013 at the UN.
Issa Amro's intervention can be watched here:
GICJ warned that Issa Amro's summons must be seen as a definite attempt to deprive him from his legitimate right to defend human rights. It is a last act of intimidation in addition to a series of mistreatment, death threats and arbitrary arrests from side of the Israeli soldiers in the past. As with other community leaders, his legitimate struggle to end the occupation is being criminalized and targeted as "incitement".
In view of his upcoming trial in December, GICJ urgently requested the Special rapporteur to remind the Israeli authorities of their obligations under international law to protect human rights defenders such as Mr. Amro and to once and for all put an end to the targeted policy against Mr Amro and the continuing wave of intimidations and arbitrary arrests to which Mr Amro continues to be subjected.
GICJ further urged the SR to demand that the continuing human rights violations against Mr Amro committed by Israeli soldiers, such as death threats, humiliation, arbitrary arrests and mistreatment be condemned and prosecuted. Such acts are illegal under international law and can no longer be tolerated.
Finally, GICJ maintained its demand that a proper investigation must be conducted on the case of Mr. David Wilder, on whose initiative, as reported in the first appeals, a letter against Mr. Amro was published that ended with the open warning that any delay to take action against him could be very "costly".
---
GICJ Activities on the Human Rights situation in Palestine and other occupied Arab territories
GICJ Urgent Appeals on Palestine:
---
GICJ Side-Events and oral statements on Palestine:
Human Rights Council - 30th regular session (14 September - 2 October 2015)
Human Rights Council - 29th regular session (15 June - 3 July 2015)
Human Rights Council - 21st special session on the human rights situation in the Occupied Palestinian Territory, including East Jerusalem (23 July 2014)
Human Rights Council - 26th regular session (10 - 27 June 2014):
Human Rights Council - 25th regular session (3 - 28 March 2014):
Human Rights Council - 24th regular session (9 - 27 September 2013):
Human Rights Council - 23rd regular session (27 May - 14 June 2013):