Occupied Palestinian Territories
Urgent Appeal to the United Nations Special Rapporteur on the situation of human rights defenders and to the Special Rapporteur on the situation of human rights on Palestinian territories occupied since 1967, on the case of Mr. Issa Amro, human rights defender and activist
Until today Israeli occupation authorities pursues a discriminatory policy of attrition against human rights defenders in the occupied Palestinian Territories, who work under conditions which place them at grave risk and present serious obstructions in every aspect of their work, with restrictions on the freedom of movement and assembly, administrative detentions and other forms of harassment, intimidation and humiliation that have rendered their situation absolutely incompatible with international human rights.

The situation in Hebron/ West Bank is especially difficult, where settlements have been installed in the heart of the city with about 600 settlers living in the area and a military presence of about 1500 soldiers, which has led to the forcible eviction of hundreds of houses and the main market street being closed to Palestinians.

Settlers living in this area are known to be especially violent and are particularly targeting human rights defenders.

As the occupying force, Israel must protect the Palestinians in the West Bank. However, settlers, who contrary to Palestinians are allowed to carry arms, are rarely held accountable. The complicity between settlers and occupation forces has led to a situation where human rights defenders are in constant fear for their lives. 

One of the most prominent cases is that of Issa I.H. Amro, a Palestinian residing in Tel Rumeida, Hebron. Issa Amro is the coordinator of a youth movement (Youth Against Settlements) opposed to occupation and settlements and strongly committed to purely non-violent protests.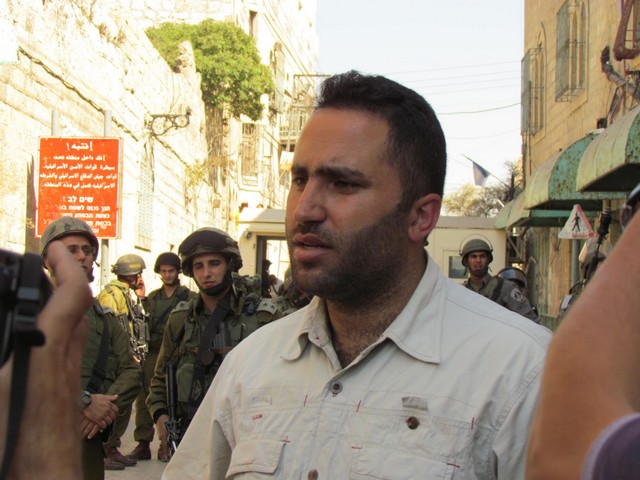 He started his activities while he was a student in 2003, after the occupation army had forcedly closed the Palestine Polytechnic University (PPU), claiming it would only provide knowledge to terrorists. Together with international supporters, Issa fought the decision until six months later the PPU was finally re-opened. Since then, Issa has become the most prominent face of the popular resistance in Hebron, closely working with international and Israeli organizations.

His activities make Issa a constant target for occupation forces and settlers alike.

In 2012 alone, he was arrested over 20 times, for periods between several hours and five days, once during a trip to Jordan, as part of a broader policy of intimidation, aimed to stop his activities.

Numerous times during his arrests he was left blindfolded and handcuffed for hours, while Israeli soldiers, incited by settlers, launched death threats and curses against him, calling Baruch Goldstein, the author of the 1994 massacre, a hero.

Issa was warned several times by Israeli occupation soldiers either to cease his activities or they would raid his house or shoot him. Complaints were never pursued. Instead, he was convicted of "incitement" and released under harsh bail restrictions even in cases when video evidence was given that he had never been involved in aggressions.

The conflict culminated on 20th March 2013, when during a protest organized at the occasion of Obama's visit to the region, Palestinian and Israeli activists walked together down Hebron's Shuhada Street, some of them wearing masks with pictures of Obama and centered around a banner saying "We have a dream" when a group of settlers started to attack them. Soldiers who arrived on the scene quickly zoomed in on the prominent local activists, arresting four Palestinians, three foreigners and two Israelis, who were later released.  Issa Amro and others of his group were among them.
All arrested Palestinians were released on harsh bail two days later; however Issa more than ever needs to fear for his life, since settlers are increasingly pressing the authorities to put him into administrative detention, threatening that if they do not they will take matters into their own hands.

On 21st March 2013 a letter was issued to senior IDF and police officers on the initiative of David Wilder, who is known to be one of the most aggressive settlers. In this letter he brands Issa as the center of "anarchist-terrorist activity" in Hebron who is involved in "military operations, including Molotov cocktails and firebombs against IDF soldiers". The letter then demands to immediately put an end to his "terrorist activities" and use administrative detention to this end. The letter ends with the open warning that any delay could be very "costly".
(The letter was published by Jewishpress.com, on 21 March 2013)

No one from Issa's group has ever incited people to throw Molotov Cocktails. To the contrary, Youth Against Settlements have frequently asked supporters to abstain from any aggressions, including stone-throwing.

Settlers however, have been the source of numerous attacks on the group's center in Tel Rumeida, where the water supply was cut, the garden destroyed while Israeli occupation soldiers, standing 5 meter away, allegedly hadn't "seen anything".
During the night from 26th to 27th of March 2013, few days after their letter to the IDF, settlers finally tried to burn the Youth Against Settlement Center, which resulted in the front wall and door being severely damaged.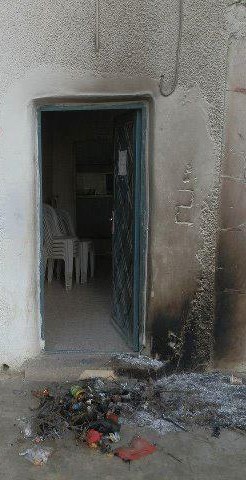 the Youth Against Settlement Center's front door after the attack
On behalf of Issa Amro, Geneva International Centre for Justice requested the Special Rapporteurs' intervention with the Israeli occupation authorities to ensure that his life is adequately protected and to put an end to the spiralling wave of intimidations, arbitrary arrests, death threats and violations to which he is constantly subjected.   

GICJ also requested the Special Rapporteurs to send an urgent letter to the Israeli occupation authorities to immediately investigate David Wilder's involvement in actions and death threats against Issa Amro and his group.
Finally, GICJ called on the Special Rapporteurs to remind the Israeli occupation authorities as the Occupying power of Palestine, of their obligations under international law to protect human rights defenders in the occupied Palestinian Territories and to press the Israeli authorities to stop the general policy of systematic intimidation against human rights defenders.
---
GICJ Activities on the Human Rights situation in Palestine and other occupied Arab territories
GICJ Urgent Appeals on Palestine:
---
GICJ Side-Events and oral statements on Palestine:
Human Rights Council - 30th regular session (14 September - 2 October 2015)
Human Rights Council - 29th regular session (15 June - 3 July 2015)
Human Rights Council - 21st special session on the human rights situation in the Occupied Palestinian Territory, including East Jerusalem (23 July 2014)
Human Rights Council - 26th regular session (10 - 27 June 2014):
Human Rights Council - 25th regular session (3 - 28 March 2014):
Human Rights Council - 24th regular session (9 - 27 September 2013):
Human Rights Council - 23rd regular session (27 May - 14 June 2013):