النص بالعربية: هنا
Dear Supporter of Human Rights:
Since its establishment, Geneva International Centre for Justice (GICJ) has been documenting and reporting human rights abuses and raising these abuses directly with the UN Human Rights Council and other human rights bodies. Our work covers a variety of issues and responds to many ongoing human rights abuses in several countries. We aim to help all people, regardless of their background, and seek justice for violations of their human rights.
Our staff of interns and volunteers does incredible work in compiling and presenting critical information in order to achieve justice for the many victims of human rights violations. However, we cannot do this work without the help of supporters like you. Financial contributions to GICJ are not used to pay wages, but they are needed for the ongoing costs associated with maintaining the office in Geneva that allows us to have direct access to all the core UN human rights entities.

Please consider making a contribution to GICJ in any amount that is comfortable for you. You can donate conveniently through PayPal or by bank transfer using the information shown below.
We invite you to browse our website to learn more about our work defending human rights and bringing violators of human rights to justice.
Thank you in advance for your support.
By Bank transfer:
Geneva International Centre for Justice
Bank details: PostFinance
                         Nordring 8
                         3030 Bern, Switzerland
Account n°: 12-188643-0
IBAN: CH02 0900 0000 1218 8643 0
N° clearing / Swift Code: POFICHBEXXX
 

Using Paypal:
If you encounter any problems with the above information or if you would like to make a donation in a different manner please contact us at This email address is being protected from spambots. You need JavaScript enabled to view it..
Your contribution is important to the promotion and protection of human rights.
Thank you!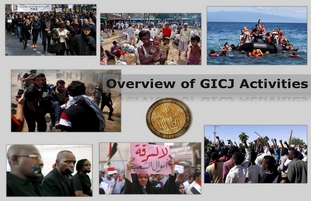 Click here for an overview of GICJ activities.