Internship at Geneva International Centre for Justice
Geneva International Centre for Justice (GICJ) is an independent, non-profit, international non-governmental organization based in Geneva, dedicated to the promotion and reinforcement of commitments to the principles and norms of human rights.
GICJ is seeking experienced and highly motivated interns to help in implementing its programmes and activities in the fields of international law, international humanitarian law, international human rights law, diplomacy, journalism, social media, administration and fundraising. The internship will also offer human rights training in the above-mentioned fields.
The Internship Programme

---
Through the internship programme, GICJ contributes to the promotion of human rights and international law and provides interns with opportunities to deepen their knowledge with valuable hands-on experience and training. Although unpaid, the internship is an opportunity for those interested in learning more in the field of international law, international human rights and international humanitarian law, as well as multilateral diplomacy, to gain insight, knowledge, and professional experience.
During the programme, interns will:
Learn more about the application of international human rights law, international humanitarian law and international law in general.
Learn about the United Nations, its bodies and their work.
Develop an understanding of the structure and work of non-governmental organizations.
Develop an understanding of how civil society contributes to and interacts with the UN.
Improve their research and writing skills.
Improve their ability to speak at meetings and conferences.
Tasks & responsibilities
---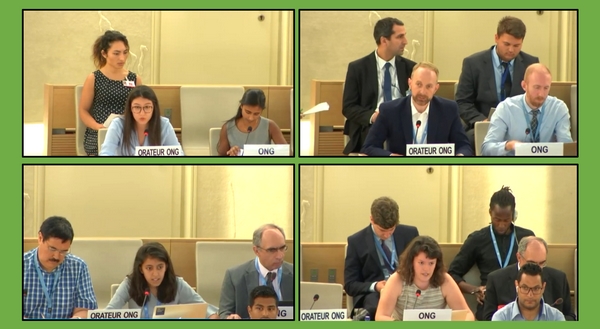 The tasks and responsibilities of interns include:
Monitoring UN human rights meetings and activities, especially the Human Rights Council, treaty body sessions and working groups.
Conducting research and analytical work on human rights violations and applicable international law.
Drafting reports, letters, statements, and urgent appeals to UN human rights bodies.
Assisting in organizing, promoting and executing conferences and meetings.
Preparing summaries and press releases on meetings and GICJ activities.
Assisting with the maintenance of the GICJ website, Facebook and Twitter accounts.
Responding to media requests, assisting in the preparation and distribution of the GICJ newsletter and press releases.
Conducting administrative tasks when needed
Requirements
---
Applicants are expected to meet the following requirements:
Knowledge in the field of international law, UN frameworks, and particularly the human rights mechanisms.
Excellent presentation, writing, editing, research, oral advocacy and communication skills.
Ability to organize and drive projects to a timely completion.
Ability to work collaboratively, to multi-task, and to work under pressure.
Self-motivated, having a strong commitment to the Centre's mission, principles and values.
Strong work ethic and attention to detail.
MA and BA degree holders or current University students in the fields of law, international relations, Middle Eastern studies, human rights, political science, economics, media, development, or public policy.
Candidates with previous fundraising experience are encouraged to apply for our fundraising focussed internship positions.
Fluency in English; skills in Arabic, Spanish or French are a plus.
Very good computer skills, including experience with the Microsoft Office suite (PowerPoint, Word, Excel, Outlook, etc).
Notes:
---
Internships are full-time positions and require a commitment of at least six months. GICJ gives priority to applicants who can commit to longer terms.
Internships are unpaid.
How to Apply:
---
To apply for an internship, please send a cover letter, resume and reference information, to:
This email address is being protected from spambots. You need JavaScript enabled to view it.
Applicants must indicate "Internship (add year)" as the subject of the email.
Only short-listed candidates will be contacted.
 Thank you for your interest in human rights and the Geneva International Centre for Justice!