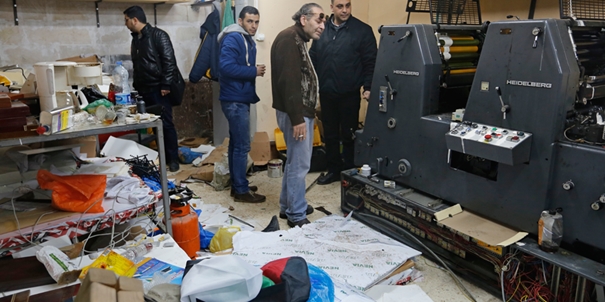 Geneva International Centre for Justice (GICJ) expresses its strong dismay at the shutdown by the Israeli military of several Palestinian media companies in the occupied West Bank during overnight raids on Tuesday, 17 October 2017. These must be seen in light of Israel's longstanding and systematic infringement on Palestinians' fundamental freedoms in an effort to silence Palestinian national expression and stifle resistance to Israeli domination.
The recent raids were executed under the pretext of the eight raided Palestinian media services having incited violence against Israel. Israel furthermore detained 14 Palestinians in overnight raids across the West Bank. Whereas Israel's crackdown on press freedom is a longstanding practice, the recent wave of raids should be seen in the context of progressing reconciliation between the Palestinian parties Hamas and Fatah and their efforts to forms a unity government. The Israeli government is firmly opposed to a more united Palestinian front.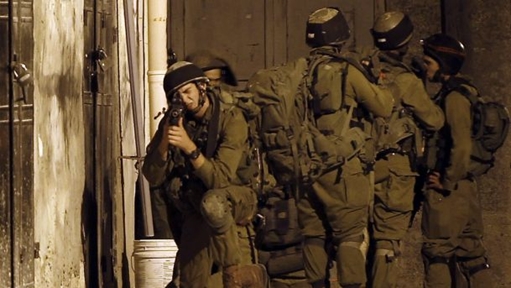 The curtailing of Palestinians' press freedom and freedom of opinion and expression has long been enshrined in both law and practice. Palestinian publications must be granted an Israeli-issued military permit and their articles are subjected to approval by the military censor – a procedure that follows censorship laws that are enforced by Israeli military authorities and supported by the Supreme Court. Palestinian press services are repeatedly raided or closed and their distribution disrupted. During raids, Israeli forces usually confiscate important equipment such as printers and computers; seize documents; and irreparably damage remaining equipment – leaving the publishing houses in complete disarray.
Meanwhile, Palestinian journalists face refusal of press cards and denial of the renewal of press accreditation by the Israeli Government Press Office, including for alleged "delegitimization" of the State. Journalists are also subjected to harassment, abuses and attacks by Israeli forces. The Israeli army furthermore engages in the confiscation of equipment and materials, arrest and detention campaigns against journalists, the bombing of media installations, and the shooting of journalists, resulting in killing and injury. Foreign journalists are often banned from Gaza.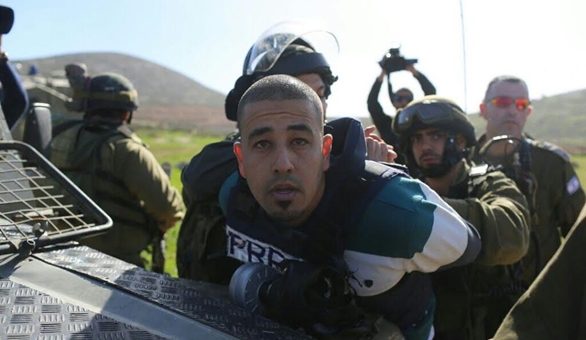 Further recent raids on Palestinian publishing houses include a raid on the oldest printing press in Tulkarem "Ibn Khaldon Company for Printing and Publishing" on 1 March 2017, during which Israeli soldiers damaged the building, dissected hardware of computers and printing presses, and destroyed or confiscated office equipment. On 30 January 2017, Israeli forces raided the Palestinian "al-Nour Publishing House" in Ramallah and confiscated four printers and a computer and irreparably damaged the remaining equipment.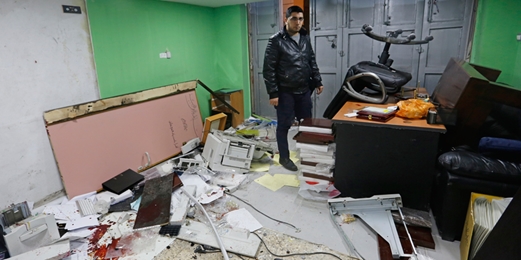 Al-Nour Publishing House after an Israeli raid, 30 January 2017
Israel's erosion of the fundamental rights and freedoms of Palestinians provides further evidence for the State's intention to suffocate Palestinian national expression and opposition to perpetuate its domination and control over the Palestinian people. GICJ reaffirms that the international community must take urgent measures to ensure that Israel:
•    Fully respect the fundamental freedoms of assembly, association, expression and movement of Palestinians, including those overtly opposing the occupation;
•    Cease and rescind its oppressive military orders and anti-democratic and restrictive practices and legislation targeting Palestinians;
•    End the use of the criminal, legal and security tools to obstruct legitimate opposition to the occupation and racial discrimination, including the use of arbitrary arrests and detentions;
•    Prevent incitement and attacks against Palestinians, thoroughly investigate violations, and bring perpetrators to justice;
•    Fundamentally reform its legal system and courts and end the repressive military regime that apply discriminatory standards of evidence and procedure to Palestinians;
•    End its prolonged brutal occupation, including all illegal settlement activities and the siege of Gaza, as well as its apartheid policies and practices that oppress the Palestinian people as a whole to finally ensure Palestinians their inalienable rights, including self-determination in their independent State of Palestine.
---
Recent GICJ features on Palestine:
---
GICJ Activities on the Human Rights situation in Palestine and other occupied Arab territories
GICJ Urgent Appeals on Palestine:
---
GICJ Side-Events and oral statements on Palestine:
Human Rights Council - 30th regular session (14 September - 2 October 2015)
Human Rights Council - 29th regular session (15 June - 3 July 2015)
Human Rights Council - 21st special session on the human rights situation in the Occupied Palestinian Territory, including East Jerusalem (23 July 2014)
Human Rights Council - 26th regular session (10 - 27 June 2014):
Human Rights Council - 25th regular session (3 - 28 March 2014):
Human Rights Council - 24th regular session (9 - 27 September 2013):
Human Rights Council - 23rd regular session (27 May - 14 June 2013):