Piecemeal Justice: Small Concessions Amidst Grave Violations against Palestinian Prisoners
 
Palestinian Prisoners End Hunger Strike after 40 Days of Struggle

On Saturday, 27 May 2017, Palestinian prisoners in Israel ended their 40-day mass hunger strike after some of their demands had been met. Talks held with the Palestinian Authority and the International Committee for the Red Cross (ICRC) had concluded in an agreement with Israel to improve some of the prisoners' conditions. For instance, the Israeli Prison Service had eventually agreed to reinstate a second monthly family visit and to improve prison conditions such as attenuate overcrowding. While the agreement represents one step towards the rights of Palestinian prisoners under international law, Geneva International Centre for Justice (GICJ) underlines that central demands – including an end to administrative detention, to solitary confinement, to all forms of ill-treatment and torture, and to medical negligence – remain unmet. Such practices and conditions are a clear violation of basic rights the prisoners are entitled with under international law – and which should hence be guaranteed without them having to starve themselves.
More than 800 Palestinians held under arrest and administrative detention in Israeli jails had initiated the hunger strike under Marwan Barghouti's leadership in the context of Palestine's Prisoners Day on 17 April to protest Israel's persistent violations of international law, including the Standard Minimum Rules for the Treatment of Prisoners. The hunger strike under the slogan of "Freedom and Dignity" was supported by protests and solidarity activities across occupied Palestine and in parts of Israel – women and men, the youth and children regardless of their political orientation joined forces to make the prisoners' demands resounds more loudly. Central demands of the hunger strikers and their supporters included: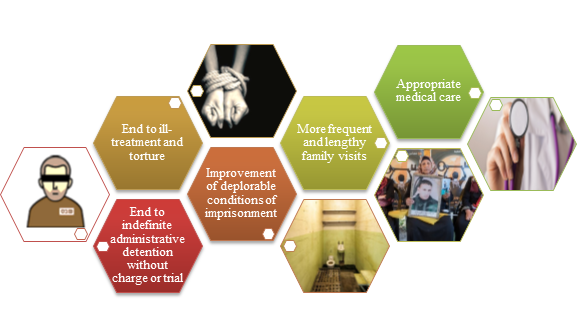 The hunger strike and solidarity protests raised tensions with the Occupying Power, which again resorted to excessive force to quell some of the protests.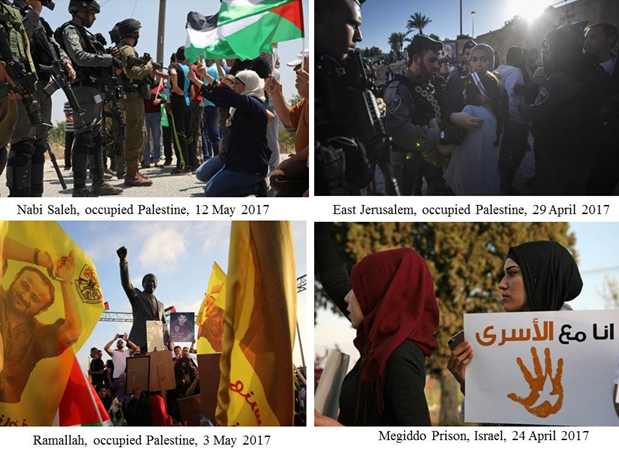 A Drop in the Bucket
While hailing the hunger strike as 'victory' for Palestinian prisoners is an important recognition of the courageous and life-threatening struggle they have sustained, such depiction runs the risk of concealing that Israel continues to violate international law despite its small concessions.
Firstly – as GICJ has emphasized in previous statements – the internment by the Occupying Power of Palestinian prisoners in its own territory is in grave breach of international humanitarian law, which determines that prisoners from occupied territories must be held inside the occupied territory. The great majority of an estimated 6,300 Palestinians are currently being held in Israeli jails, in violation of Article 76 of the Fourth Geneva Convention. This subjects family visits to the denial of entry permits and further movement restrictions.
Secondly, Israel continues to arbitrarily detain Palestinians, including women and children, without charge or trial and to restrict access to legal counsel. This practice is in breach of key principles set forth in Article 9 of the International Covenant on Civil and Political Rights. A reported 500 Palestinian prisoners are held in administrative detention today. The Israeli military judicial system disregards the right to freedom and due process, the right of defendants to state their case, and the presumption of innocence: Administrative detainees – whose detention periods can be renewed indefinitely – are arrested on "secret evidence", without being informed about the accusations against them, and are prevented from defending themselves in court.
Thirdly, the conditions of imprisonment of Palestinian arrestees, including women and children, remain abhorrent and often lead to severe injury and psychological distress. While the right to family visits is enshrined in the Fourth Geneva Convention and should never be curtailed for punitive reasons, Palestinian prisoners face the denial of family visits or extremely short visiting times; they are submitted to solitary confinement; overcrowding in small living spaces far below the international standard; denial of basic facilities; poor hygiene; the denial of access to education; and lack of medical care, including deliberate medical negligence resulting in cases of death. Methods of torture include painful shackling; fixation in stress positions; sleep deprivation; threats against family members; and physical and verbal abuse. Recent years saw a rise in forms of psychological torture. "Solitary confinement; verbal assaults to religion, values or culture; sleep deprivation; random inspections at any time of the day or night; and being forced to stand naked" (A/69/355) are reported to be predominant methods of psychological torture, which permanently harm Palestinian prisoners. Different methods of ill-treatment and torture are aimed at breaking the detainees' spirit and violate fundamental provisions of international law.
Routine Ill-Treatment
The interrogation regime of the "Israel Security Agency" (ISA) builds on the routine use of ill-treatment. In their 2007 report, B'Tselem and HaMoked deciphered seven key elements inflicting on the dignity and bodily integrity of Palestinian detainees. As the methods are employed in combination during prolonged interrogation periods, they have a cumulative effect.
1. Isolation from the outside world: Interrogees are prevented from meeting family members, their attorneys, and Red Cross representatives, aggravating their sense of exposedness and helplessness. Being prevented from meeting attorneys, the interrogees were deprived of access legal guidance pertaining to their rights during detention and interrogation.
2. Conditions of confinement cause psychological harm: Solitary confinement in windowless cells without natural light and fresh air and without furniture or reading/ writing material results in mental distress, or "sensory deprivation".
3. Conditions of confinement weaken physical state: The denial of bodily movement, combined with protracted interrogation requiring detainees to sit constantly, weaken muscles and increase vulnerability to illness. Sleep deprivation and insufficient and poor-quality food intensify physical harm.
4. "Shabach" position: The abundant and prolonged use of the "shabach" position, during which the detainee is tied to a chair with hands and legs tightly shackled and chained, causes severe bodily pain.
5. Beating and degradation: Interrogees are submitted to body searches, sometimes while standing in front of interrogators naked, and face insults, defamation, and sexual harassment. Interrogators also shout into detainees' ears and spit in their faces.
6. Threats and intimidation: To break the detainees' spirit, they are threatened with extreme physical torture and with arrests of family members and home demolitions in case of non-cooperation, and are taken to see their invited relatives in the facility from afar.
7. Obtaining information through informers: Having sustained traumas due to prior interrogation, the detainees are taken to "regular cells" with other persons who can now more easily extract information from them.
These methods are aimed at breaking the detainees' spirit and violate fundamental provisions of international law prohibiting ill-treatment. Some of these measures also amount to torture. Thousands of Palestinians suffer from serious illnesses, for which most are only treated with painkillers by Israeli doctors employed by and complicit with the Israeli Prison Service. Hunger strikers in protest of the abhorrent conditions are further punished with the refusal of essential salts and water, medical negligence, banned family visits, and blocked access to lawyers – in contravention to fundamental protections in international human rights law.
While Palestinians are well aware that they were not born with a hunger to be free but were born free, the Occupying Power leaves no option to Palestinian prisoners but to starve themselves to attain basic rights. Israel has once again proven that it makes concessions not out of a respect for human rights but to quell any activity threatening the occupation and thus its perceived interests. Meanwhile, the hunger strikers have proven that they are willing to sacrifice their lives for the freedom and dignity of their people. Countless Palestinians and actors around the globe have stood by them in solidarity and support.
In view of the fact that fundamental rights of Palestinian prisoners continue to be tramped on, GICJ calls on the United Nations, in particular the Human Rights Council, and Member States to take all necessary measures to ensure that Israel fully comply with ALL demands of the hunger strikers, inter alia,
  by releasing immediately all political prisoners and ensure fair and speedy trials for those charged   with an offense according to international standards, or release them instantly;
  by ensuring that prisoners are treated in accordance with international humanitarian law and   international human rights law; hence by ceasing torture and ill-treatment and solitary confinement   of Palestinian prisoners;
  by allowing for appropriate medical care.
Protest for Prisoners' Day in occupied Palestine, 16-17 May 2017
---
Related articles by GICJ:
Scar(r)ed for Life: Everyday Violations around Israel's Illegal Settlements
Forcible Eviction of Ein Hijleh
GICJ - Urgent Appeal to the UN Special Rapporteur on the situation of human rights in Palestinian territories occupied since 1967