18.07.2018
By: Yazeed Sharaiha and Mutua K. Kobia

Each year Nelson Mandela International Day commemorates the struggle of Nelson Mandela and praises his devotion towards fighting against injustices. This year, 2018, marks 100 years, the Centenary, since Nelson Rolihlahla Mandela was born (18 July, 2018) and marks an occasion to celebrate and reflect on his life and legacy. Geneva International Centre for Justice (GICJ) highlights his monumental contributions towards freedom, combatting racial discrimination, promoting human rights and building peace on this day in honor of Nelson Mandela.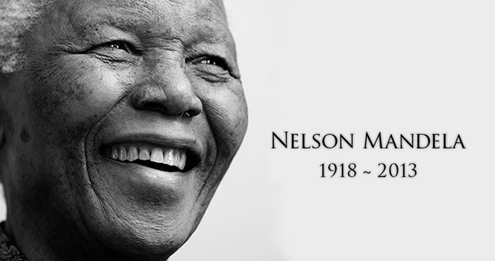 Struggle for Freedom
During the fight against Apartheid in South Africa, Mandela would often use logical and legal reasoning and his uncanny wisdom to point out the injustices that the Apartheid system brought on black South Africans and other non-whites while providing and securing white minority rule at all levels of social, economic, and political life. In a Press Statement on 26 June, 1961 entitled, "The Struggle is my Life", he talked about oppression of a people by denying and actively suppressing their right to peaceful assembly and association; ironically the demonstration that was taken to the streets and was met with aggression as "entire resources of the State, military and otherwise" were discharged against the unarmed protestors, was to promote freedoms of the suppressed people.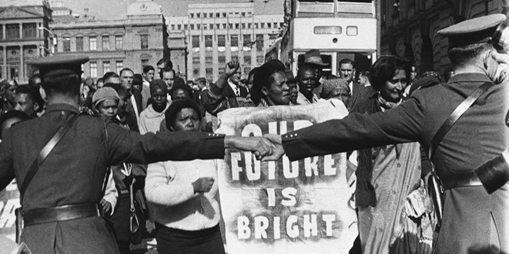 Nelson Mandela saw this move as evidence that the movement against Apartheid was growing stronger and gaining ground as the oppressors had to use extensive and excessive use of force against peaceful protestors. This was confirmation that Nelson Mandela, the African National Congress and other opposers to Apartheid rule had "become a power to be reckoned with and the strongest opposition to the government". Upon this realisation, Mandela announced that fresh plans towards fighting against the Verwoerd republic and for a National Convention as he recalled that the "Pietermaritzburg Resolutions warned that if the government did not call a National Convention before the end of May, 1961, Africans, Coloureds, Indians and European democrats would be asked not to collaborate with the republic or any government based on force."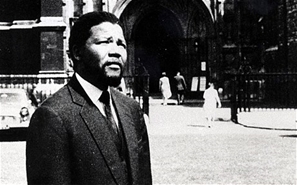 He noted that their actions would be within the law and that all measures to put pressure against racist and discriminatory rule would be in full effect. He stressed that the fight was not against Whites, but for a sovereign multi-racial convention and for a "democratic government of the people, by the people and for the people". Nelson Mandela made it clear that it is absurd to expect a voteless people to continue to pay taxes towards a government that blatantly and deliberately bears no responsibility or obligations towards them. People living in poverty and starvation were expected to pay exorbitant house rents to government and local authorities and that the people working long hours tirelessly in the gold mines, in diamonds, coal, and farming industries were in return given miserable wages. He questioned why the oppressed people should continue enriching those who steal and exploit from them, why they should continue enriching those who side with a government who denies their right to peacefully demonstrate and assert their claims and aspirations and deny Africans of a real education, and why they should continue carrying badges of slavery as they are forced to live under the cruel pass laws…?
Nelson Mandela made it clear that these injustices must be opposed and that non-collaboration, discrimination, and other attempts and measures to separate groups of people living in the same country is "a dynamic weapon". In light of circumstances, he aptly realised that these types of injustices can only be defeated with the help of the international community to which he called to "expel South Africa and upon nations of the world to sever economic and diplomatic relations with the country."
To this end, he questioned all; who will side with him against an oppressive government and discriminatory system, who will side with or co-operated with the oppressive government that suppresses the claims and aspirations of its own people, and who will keep silent or remain neutral in a matter of life and death to his people?
"It is so easy to break down and destroy. The heroes are those who make peace and build."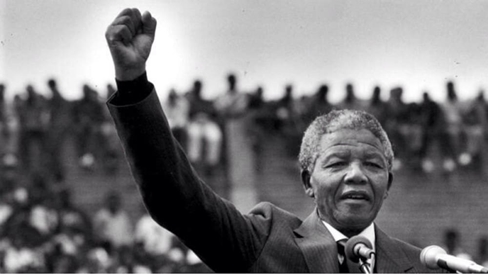 On Racial Discrimination
What error was made that this system established itself in the wake of the adoption of a universal declaration of human rights? This important question could be raised by the future generation. To say: "enough is enough", will always remain as a challenge to all these Men and Women of conscience, who opposed all kind of discrimination.
People must work together for the creation of peace. They also must defend the purposes for which the UN was established and create a situation where the Charter and the Universal Declaration of Human Rights will be totally respected and will become part of the body of law on which will be based the political and social order of a new South Africa.
It's a great irony in our age that the Assembly is addressed, for the first time in its 49 years, by the Head of State of a Southern African country, and our future generation will find it very strange that only so late in the 20th century, it was possible for South Africans to have seats in this Assembly. This august Organization will celebrate its 50th anniversary next year and a lot of efforts were carried out by the UN to ensure the suppression of the apartheid crime against humanity.
The most important thing is to heal the wounds inflicted on all the people across the huge dividing wall imposed on the society. Gender, color or race is a gift from God, we must understand that, and we must totally respect that we are completely equal. We need to work a lot to see the day where the South Africans see one another as equal human beings and as part of one nation united, because that Is the real meaning of equality. To achieve this goal, there will be a lot of obstacles and the road might not be easy. "
"We all know how racism could be violent and how deeply it could infect the human soul, but we will not surrender, and we will not tire, whatever the time it will take. We will fight… we will fight until victory is achieved!" Nelson Mandela
On Human Rights
The 53rd General Assembly will always be remembered, because that moment will mark the 50th anniversary of the adoption of the Universal Declaration of Human Rights. After the defeat of the fascist and Nazi crime against humanity, this Declaration was born to give a hope to the society, so that it could be built on the foundations of the glorious vision spelt out in each of its clauses.
The Universal Declaration of Human Rights served as the defender of Justice for those who needed to fight for their emancipation and those who had to free themselves from the criminal apartheid system. At the same time, the big challenge was to dedicate this freedom to the implementation of the perspectives contained in the Declaration.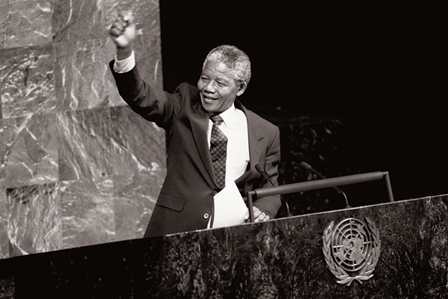 The celebration of today is about the fact that this document has survived during five decades; it includes the collapse of the colonial system, the passing of a bipolar world, breath taking advances in science and technology and the entrenchment of the complex process of globalization. Unfortunately, today, human beings, who are at the main subject of this Universal Declaration of Human Rights, are still affected by wars and violent conflicts, and in a lot of countries the fear of death is dominant.
"It could be the last time, for me, to have the honor and to stand at this podium to address the General Assembly" said Mr Mandela. Soon, he will retire to some rest and tranquility in the village of his birth, after this long walk. In Qunu, he will continue to entertain the hope, because no one should deny freedom, no one should go hungry as the South Africans were, and no one should be stripped of their human dignity as they were.
"I will have peace and tranquility, only if all these hopes become a realizable dream and not a nightmare to torment the soul of the age." Nelson Mandela.
On Building Peace
"Peace is not just the absence of conflict"
Nelson Mandela
Nelson Mandela believed that peace goes beyond absence of conflict and that it is "the creation of an environment where all can flourish" regardless of physical appearance, class, religion, language, ethnicity, or other social and cultural practices and/or markers used to identify differences used to separate each other. Rather these elements should be seen as an enrichment to human civilization that adds wealth to diversity. By allowing them to cause division and violence only further demeans humanity.
Mandela also believed that peace and development are indivisible and when these elements are carried out in tandem nations will have the capability to uplift the most underprivileged of their citizens. In remembrance, Mahatma Gandhi said that "a nation's greatness is measured by how it treats its weakest members". Focusing on and taking care of the most underprivileged and the most vulnerable is true testament to the highest of moral values especially by a nation state which was understood by Nelson Mandela.
He was also a champion of solidarity as evidenced by his commitment to equality, working together, unity, and the pursuit of a true democratic society. In his famous "I am prepared to die" manifesto he says,
"I have fought against white domination, and I have fought against black domination. I have cherished the ideal of a democratic and free society in which all persons live together in harmony and with equal opportunities. It is an ideal which I hope to live for and to achieve. But if needs be, it is an ideal for which I am prepared to die."
Mandela was well aware that especially in modern times international solidarity is key towards ending injustices and securing peace. Before his arrest in 1962 and even while he was in prison for 27 long years he continuously called on the international community to help end apartheid and always acknowledged and honoured their helping hand and solidarity with him and the South African people who fought and struggle against an oppressive regime.
GICJ's Position
Geneva International Centre for Justice (GICJ) commemorates Nelson Mandela International Day and celebrates in honor the Centenary of Nelson Mandela who was a great champion in combatting injustices. His struggle for freedom, combatting racial discrimination, promoting human rights, and building peace are some of the most monumental contributions towards justice and peace for humanity.
As acknowledged by Nelson Mandela in his later years the beginning of the 21st century sadly still has too much violence, hatred, and injustices which can only be overcome through non-violence the promotion of the principles of freedom and democracy, a profound respect for all people irrespective of race, colour, sex, religion or creed, and solidarity with one another.
GICJ continues to advocate and strongly defend the rights of all people under the Universal Declaration of Human Rights and continues to combat racism, racial discrimination, xenophobia and related intolerance under the Durban Declaration and Programme of Action. GICJ calls on the international community to reflect on the wisdom of Madiba, follow in his footsteps, and act on his ideals for it is only in this way that we can truly honor the legacy of Nelson Rolihlala Mandela.
---
International Days of Remembrance articles by GICJ: