Over the decades of occupation, the Palestinian people have been systematically deprived of their land, including the attendant natural resources and environmental quality. Land confiscations, barrier walls and maritime security zones have all limited the ability of Palestinians to enjoy the full measure of the natural resources that are a part of the occupied territories. In the case of the West Bank specifically, the UN Special Rapporteur on the Occupied Palestinian Territories put it plainly when he said that the natural resources "are largely controlled by Israel and primarily exploited for its benefit."
In addition, Israeli businesses, citizens, and government actors are responsible for significant environmental pollution that has caused severe health impacts and loss of livelihood for thousands of Palestinians. Local data show elevated incidents of serious health problems, such as cancer, in areas subjected to serious air pollution, toxic waste, and the like. The continued presence of these pollutants causes cumulative effects leading to long-lasting environmental damage and long-term health problems for current and future generations of Palestinians.
19 March 2019
This event explores the nature of the issue and the prospects of addressing the problem at the international level.
Speakers:
Mr. Michael Lynk:

Professor S. Michael Lynk is an Associate Professor of Law at Western University in London, Ontario, where he teaches labour law, constitutional law and human rights law. Before becoming an academic, he practiced labour law and refugee law for a decade in Ottawa and Toronto. As well, he worked for the United Nations on human rights and refugee issues in Jerusalem. Professor Lynk has written widely on labour law and human rights issues in Canada, and he has also published articles on the application of international law to the Middle East conflict. He has regularly acted as a labour arbitrator in Canada, he speaks frequently at labour law and industrial relations conferences and he has advised governments and international organizations on labour law and human rights issues. Professor Lynk received his B.A. (with honours) and his LL.B. from Dalhousie University, and completed his LL.M. at Queen's Universityin 2001. 01:15
Mr. Alfred de Zayas:
Mr. Alfred-Maurice de Zayas studied history and law at Harvard, where he obtained his J.D. He practiced corporate law with the New York law firm Simpson Thacher and Bartlett and is a retired member of the New York and Florida Bar. He obtained a doctorate in history from the University of Göttingen in Germany. Mr. de Zayas has been visiting professor of law at numerous universities in Canada, Geneva, Chicago, Galway, and Germany. At present he teaches international law at the Geneva School of Diplomacy. In 2009 de Zayas was a member of the UN workshop that drafted a report on the human right to peace. He served as a consultant to the Office of the High Commissioner for Human Rights on the issue of mercenaries. De Zayas is an expert for civil and political rights and has published nine books on a variety of legal and historical issues. His scholarly articles encompass the prohibition of aggression, universal jurisdiction, the right to the homeland, mass population transfers, minority rights, refugee law, repatriation, legal aspects of the Spanish Civil War, indefinite detention, Guantanamo and the right to peace. He is fluent in six languages. He has received several awards, most recently the "Educators Award 2011" of Canadians for Genocide Education.  26:03
Moderator:
Ms. Daniela Donges:
Ms. Daniela joined GICJ in January 2013. She holds a Master in specialized translation from the University of Geneva. She has undertaken visits to several countries in Middle East and Pakistan,where she was exposed to different culture and ways of life. She is passionate about intercultural dialogue and committed to the rights of minorities. As an officer in the reporting section of GICJ, she is closely in touch with people on the ground and prepares updates for the OHCHR on cases of concern.
Organizers:
International Organization for the Elimination of All Forms of Racial Discrimination (EAFORD), International_Lawyers.Org, Geneva International Centre for Justice (GICJ), Union of Arab Jurists (UAJ),International Educational Development, Inc., World Peace Council, The Brussells Tribuna.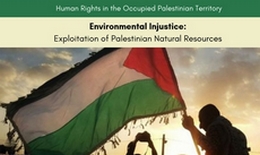 Click here to read the report.