Iraqi Government Continues to Execute People in "Batches"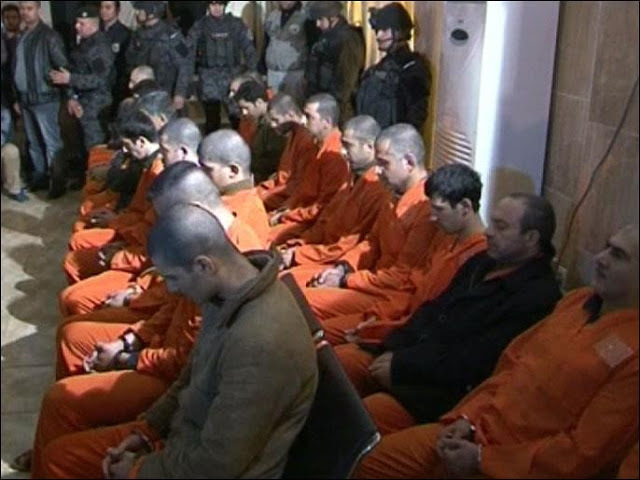 GICJ stands in strong condemnation of the Iraqi government's continued practice of arbitrary executions and disregard for life and international and human rights law. On 22 August 2013, GICJ sent an urgent appeal to Ms. Navi Pillay, United Nations High Commissioner for Human Rights, in regards to a new wave of executions perpetrated by the Government of Iraq. Despite stout international outcries and condemnation against its practice of executions, on 19 August, 17 prisoners (among them two women) were put to death. This brings the total number of executions for this year to 72 and represents only a fraction of the lives in danger of meeting the same fate.

Only one week prior to the executions, Iraqi Minister of Justice Al-Shammari announced on Iraqi television that there are presently 1200 prisoners languishing on death row.  He added that the government of Iraq is determined to not only continue these executions, but to accelerate them. More precisely, Al-Shammari declared that there are still some "legal obstacles" to overcome in order to allow the Iraqi government to execute at a higher rate, but that it is firm on its decision to overcome these obstacles. These statements mirror those of Iraqi Minister of Human Rights Mohammed Shiaa' Al-Sudani, who on numerous occasions has supported and encouraged the continuation and increase of executions.
By "legal obstacles that prevent the Iraqi government from carrying out executions", Al-Shammari was referring to the Iraqi Criminal Proceedings Nr. 23 of 1971, which provides basic human rights to the accused, such as the right to a new trial if new evidence becomes available and the right to clemency appeals. According to Al-Shammari, draft legislation amending this law and abolishing such rights was sent to the Iraqi Council of Ministers, the executive branch of the Iraqi government.
Al-Shammari has come under strong criticism for his planned amendment of the law.  Mr. Mohammed Faisal, President of the Association of Iraqi Lawyers and Dr. Ali Al-Shammari, Chairman of the Iraqi Jurists Association, have both stated that the law is one of the best existing Iraqi laws when compared to international standards.  Concerns have also been voiced by Chairman of the Iraqi Parliament's Human Rights Committee, Dr. Salim Al-Jabouri, who in a statement recalled Ms. Pillay's insistence that the Iraqi judicial system is "too seriously flawed to warrant even a limited application of the death penalty."
In Iraq, it is common practice to use torture to extract false confessions, which are then used to sentence people to death.  In countless other cases, detainees are sentenced without having been provided a fair trial or due process. Any execution carried out under these circumstances constitutes an arbitrary execution and contravenes international law.  The most recent executions demonstrate the Iraqi government's continued determination to arbitrarily deprive citizens of their lives. With a new "anti-terrorism" campaign in place that saw the arrest of almost 1,000 people in less than two weeks, thousands more are in danger of facing arbitrary executions, particularly since in Iraq any link to terrorism is punishable by death. With 1200 people already on death row, international action could not be more urgent.
In its urgent appeal, Geneva International Centre for Justice requested that the High Commissioner uptake an immediate investigation into executions perpetrated in Iraq and that she urges the Iraqi government to come into line with human rights and international law.  GICJ, along with its partner NGOs will raise the issue of executions in Iraq during the 24th session of the Human Rights Council.
Justice, Human rights, Geneva, geneva4justice, GICJ, Geneva International Centre For Justice 
---
Documenting and reporting human rights violations in Iraq
| | | | | | | |
| --- | --- | --- | --- | --- | --- | --- |
| | Executions | | Human Rights Violations in the context of fight against terrorism | | Peaceful protests | |
| | | | | | | |
| | | | | | | |
| | | | | | | |
| | | | | | | |
| | | | | | | |
| | | | | | | |