06 Feb 2019
By: Leureta Lumi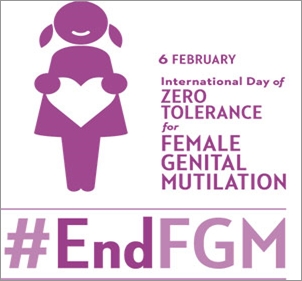 Female genital mutilation (FGM) is recognized internationally as a violation of the human rights of girls and women. It reflects deep-rooted inequality between the sexes and constitutes an extreme form of discrimination against women. It is nearly always carried out on minors and is a violation of the rights of children.
On February 6 2003, during the "Campaign against Female Genital Mutilation" the spokesperson, then First Lady of Nigeria, Mrs. Stella Obasanjo, officially declared "Zero Tolerance for FGM" in Africa. The conference was organized by the Inter-African Committee on Traditional Practices Affecting the Health of Women and Children (IAC). The Sub-Commission on the Promotion and Protection of Human Rights then adopted the day as an international awareness day, and furthermore, the UN General Assembly at its sixty-seventh session (2013) on "Intensifying global efforts for the elimination of female genital mutilations" adopted resolution 67/146 where it called upon States, the United Nations system, civil society and all stakeholders to "continue to observe 6 February as the International Day of Zero Tolerance for Female Genital Mutilation and to use the day to enhance awareness-raising campaigns and to take concrete actions against female genital mutilations".
Types of FGM
FGM comprises all procedures that involve altering or injuring the female genitalia for non-medical reasons and is recognized internationally as a violation of the human rights of girls and women.
Female genital mutilation is classified into four major types.
1.   Clitoridectomy: partial or total removal of the clitoris (a small, sensitive and erectile part of the female genitals) and, in very rare cases, only the prepuce (the fold of skin surrounding the clitoris).
2.    Excision: partial or total removal of the clitoris and the labia minora, with or without excision of the labia majora (the labia are "the lips" that surround the vagina).
3.    Infibulation: narrowing of the vaginal opening through the creation of a covering seal. The seal is formed by cutting and repositioning the inner, or outer, labia, with or without removal of the clitoris.
4.    Other: all other harmful procedures to the female genitalia for non-medical purposes, e.g. pricking, piercing, incising, scraping and cauterizing the genital area.
Who is at risk?
Procedures are mostly carried out on young girls sometime between infancy and age 15, and occasionally on adult women. In Africa, more than three million girls have been estimated to be at risk for FGM annually.
About 140 million girls and women worldwide are living with the consequences of FGM. In Africa, about 92 million girls age 10 years and above are estimated to have undergone FGM.
The procedure is most concentrated in 29 countries in Africa and the Middle East, but is also common in several Asian countries, including India, Indonesia, Iraq and Pakistan, as well as among some indigenous groups in Latin America, like the Emberá in Colombia. Moreover, FGM continues to persist amongst immigrant populations living in Western Europe, North America, Australia and New Zealand.
Cultural, religious and social causes
The causes of female genital mutilation include a mix of cultural, religious and social factors within families and communities. It reflects deep-rooted inequalities between the sexes, and constitutes an extreme form of discrimination against women and girls. The practice also violates their rights to health, security and physical integrity, their right to be free from torture and cruel, inhuman or degrading treatment, and their right to life when the procedure results in death.
•    Where FGM is a social convention, the social pressure to conform to what others do and have been doing is a strong motivation to perpetuate the practice.
•    FGM is often considered a necessary part of raising a girl properly, and a way to prepare her for adulthood and marriage.
•   FGM is often motivated by beliefs about what is considered proper sexual behaviour, linking procedures to premarital virginity and marital fidelity. FGM in many communities is believed to reduce a woman's libido and therefore believed to help her resist "illicit" sexual acts. When a vaginal opening is covered or narrowed (type 3 above), the fear of the pain of opening it, and the fear that this will be found out, is expected to further discourage "illicit" sexual intercourse among women with this type of FGM.
•    FGM is associated with cultural ideals of femininity and modesty, which include the notion that girls are "clean" and "beautiful" after removal of body parts that are considered "male" or "unclean".
•   Though no religious scripts prescribe the practice, practitioners often believe the practice has religious support.
•   Religious leaders take varying positions with regard to FGM: some promote it, some consider it irrelevant to religion, and others contribute to its elimination.
•    Local structures of power and authority, such as community leaders, religious leaders, circumcisers, and even some medical personnel can contribute to upholding the practice.
•    In most societies, FGM is considered a cultural tradition, which is often used as an argument for its continuation.
•    In some societies, recent adoption of the practice is linked to copying the traditions of neighbouring groups. Sometimes it has started as part of a wider religious or traditional revival movement.
•   In some societies, FGM is practised by new groups when they move into areas where the local population practice FGM.

The Secretary General's report, "Intensifying global efforts for the elimination of female genital mutilation" states that efforts to end these practices should also target the groups of women and girls who are most at risk, in particular those who face multiple and intersecting forms of discrimination, including refugee and migrant women, women living in rural and remote communities and young girls, so as to leave no one behind. Similarly, the principles of universality and respect for human rights that underpin the 2030 Agenda mandate that stakeholders address female genital mutilation, regardless of individual circumstances, prevailing cultural and social norms, or country of origin or destination.
UNFPA, jointly with UNICEF, leads the largest global programme to accelerate the abandonment of FGM. The programme currently focuses on 17 African countries and also supports regional and global initiatives.
This International Day also falls under the ongoing Spotlight Initiative; a joint project of the European Union and the United Nations to eliminate all forms of violence against women and girls. One of the specific threads of the Spotlight Initiative targets sexual and gender-based violence, and harmful practices in Sub-Saharan Africa, which include female genital mutilation.
Organized by the United Nations Population Fund (UNFPA) and #Dysturb, there is an exhibition at the UN Headquarters in New York entitled, "68 Million Girls at Risk". The exhibition celebrates the successes achieved over the past decades in the urgent global fight to abandon FGM. It also aims to raise awareness and encourage action regarding FGM and to present a compelling argument for the abandonment of FGM.
GICJ Position
Geneva International Centre for Justice (GICJ) advocates and promotes the rights of women as well as gender equality and strongly condemns all forms of violence against women and girls. In particular, GICJ condemns the practice of FGM and calls on the international community to ban this harmful practice across the globe. In addition, GICJ encourages government authorities to provide support and promote health services for victims of FGM and educational opportunities on the dangers and the physical and psychological impacts FGM has on girls.
#EndFGM #Womenmatter
Human rights, Geneva, geneva4justice, GICJ, Geneva International Centre for Justice, Justice
---
International Days of Remembrance articles by GICJ: