Geneva International Centre for Justice reiterates its condemnation of the killing of peaceful demonstrators in Al-Hawija as new testimonies and evidence show that wounded demonstrators were executed by Army and SWAT forces
GICJ sent an urgent appeal on 23 April 2013 regarding the massacre of Al-Hawija. In view of new developments which were brought to its attention by reliable sources, GICJ sent a follow-up appeal on 26 April 2013, in which it denounced the armed forces executing of arrested demonstrators,  and warns of the high possibility of new massacres if swift and effective action is not taken.
Latest developments, Monday 29 April 2013
Border closures, cut-off of communication, and threats from military commanders
GICJ warns of the latest developments in Iraq, which include the Iraqi authorities' decision to close the border with Jordan for 48 hours, beginning Tuesday 30 April, and to cut off all internet and phone communications. Moreover, in an obvious attempt to cover future planned massacres against peaceful demonstrators, the Iraqi authorities have suspended the license of 10 satellite channels, including "Al Jazeera". Coupled with the constant threat expressed by Military Commanders against demonstrators, it is foreseeable that a new massacre will take place in the coming hours or days, which therefore requires that swift action be taken to avoid new bloodshed as occurred in Al-Hawija.

Members of Parliament: Iraqi forces executed arrested people
Parliamentary members from the Iraqya Party held a press conference where they presented pictures taken during the Al-Hawija massacre. In the pictures one can see four handcuffed demonstrators, three dead and one still alive.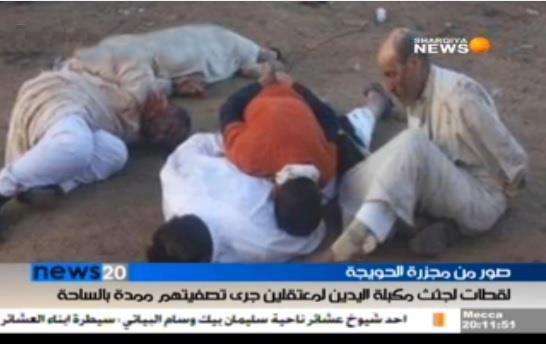 It is only logical that forces would not handcuff a corpse, which supports previous reports that military forces executed demonstrators who had been arrested. The person who is seen alive in the picture is Dr. Amer Aboud Jabber Al-Douri, Professor of Economics and Dean of the Faculty of Economics at Kirkuk University, who was already dead when brought to the hospital. Again, this is further proof that Iraqi forces executed demonstrators post-arrest.
The press conference, in Arabic language, can be watched here:
Declaration by the President of the Commission of Inquiry into the events of Al-Hawija
Salim al-Jabouri, Chairman of the Human Rights Commission and member of the Commission of Inquiry on the events of Al-Hawija, established by the Speaker of the Parliament, Osama al-Nujaifi, has stated that the Commission is convinced of the involvement of Iraqi Armed Forces senior officials in the massacre at Al-Hawija and their having issued orders to kill, carrying out executions, and deployment of excessive and systematic use of force. A report by the Commission, which will be presented to Parliament in two days, condemns the action of the senior officers and calls for their being brought to trial for committing 'crimes against the innocent'. Salim al-Jabouri further added that events at Al-Hawija were premeditated and confirmed the execution of wounded protestors, which constitutes a crime against humanity. The report specifically calls for the arrest and trial of Iraqi Minister of Defense Saadun Al-Dulaimi and six other high-ranking officials for the involvement in the massacre: Lieutenant General Ali Ghaydan, Lieutnant General Abdalamir al-Zaidi, commander of the Dijlah operation command, Brigadier Mohammed al-Jabouri, commander of the emergency regiment, Colonel Ragheb Radhi, commander of the federal police brigade in Diyala, Colonel Abdelhalim Abbas, commander of the special operations regiment in Diyala, and Lieutenant Colonel Anouar Saleh Mahdi Abdallah.
GICJ follow-up appeal of 26 April 2013 on the massacre of Al-Hawija
On 26 April 2013, GICJ received new, telling information from local sources regarding the massacre perpetrated against peaceful demonstrators in the city of Al-Hawija, near Kirkuk, Iraq, that left scores dead and injured and hundreds arrested. This information from various reliable sources shows that the killing of peaceful demonstrators was a planned and carefully premeditated massacre by Prime Minister Maliki and his government. Moreover, they attest that many wounded protesters were executed while lying on the ground following their arrest by SWAT forces.
In its previous appeal, sent on 23 April 2013, GICJ reported that 50 people had been killed. Later that day GICJ was informed by local sources that there had been 200 killed or wounded. The exact number of casualties is difficult to know at the time, particularly because there are reports that anywhere from 200 to 400 people are presently missing. Their whereabouts or whether they have been killed or arrested remains unknown.
Army and government officials claim that the attack was carried out in response to armed men at the protest opening fire on security forces, but numerous witness accounts have firmly sustained that this was not the case and that no protestors were armed.
Supporting this claim is the testimony of the Minister of Education Mohammed Tamim, who lost 38 tribe members in the attack and resigned immediately after the atrocities.
Mr. Tamim was in direct negotiations between the demonstrators and government. According to his testimony, in the afternoon of 22 April, he personally asked Prime Minister al-Maliki to be allowed to uptake negotiations before the problem escalated further, to which Maliki replied, "You only have a few hours before the army storms the square." This in and of itself shows that plans to attack the protesters were already in place well before claims that the protesters fired on army officials and that they attacked in response to this. At around 1 a.m. on 23 April, just hours before the attack, Mr. Tamim asked the Iraqi Defense Minister, Saadun al-Dulaimi to be allowed to search the protest camp for weapons. Mr. Tamim spoke to protesters and informed them that they needed to remove their tents and that there were persons in the camp who needed to be arrested. Protesters agreed to have the grounds searched and to have any individuals that were wanted by officials arrested without objection.
His testimony, in Arabic language with English subtitles, can be watched here:
Mr. Tamim toured the protest camp for three hours and never found any evidence of weapons.  At 4 a.m., Mr. Tamim returned to speak to demonstrators one final time. He stressed to them that the situation was becoming dangerous. They refused to remove their tents as ordered, but they requested that an extension be granted to them until 12 p.m. so as to allow them time to discuss the situation amongst themselves. When Mr. Tamim relayed this request to the army commander, he replied "My orders are clear. I cannot give them more time."  Shortly after, at 5 a.m., the ambush was conducted. It is important to note that throughout the hours preceding the attack, Mr. Tamim maintained constant communication with Prime Minister Maliki and Defense Minister Saadun al-Dulaimi.
In its appeal of 23 April, GICJ also informed the UN High Commissioner that military forces had used live ammunition, tanks and helicopters against protesters and that they had attacked the wounded. New details have come to light regarding the violent nature of tactics used by military forces. Aside from firing indiscriminately at protesters, forces also hosed them down with extremely hot water, causing burns and death.
Execution of wounded protesters
Various testimonies have also confirmed that military forces, in particular SWAT members, executed protesters that had been wounded. High ranking officials of the 12th Division of the Iraqi Army who were present alongside SWAT forces at al-Hawija have themselves confirmed that SWAT forces executed many wounded  and ran over protesters with their trucks.
Raken Sayd, Deputy Governor of Kirkuk has also stated that many people were executed after having been arrested.  Medical examiners confirm accusations that both those injured and arrested were executed. Examination of several bodies showed that some of them had been arrested while wounded and executed while on the ground. Reports from Azadi General Hospital, where 34 bodies of persons that had been arrested during the attack were transferred showed, upon medical examination, that many had been executed, with a gunshot to the head, after having been previously wounded.
What occurred on 23 April at Hawija was a planned and carefully premeditated massacre by Prime Minister Maliki and his government, and therefore constitutes a crime against humanity. Military officials had indeed been given orders to storm the demonstrator's camp before any genuine negotiations could be carried out. Officials had a mission to kill and nothing would have changed that. Claims that demonstrators were armed and fired at security forces were false and unfounded.
Maliki, his government and his military officers committed grave violations of human rights and international law including laws against summary and arbitrary executions and the right to life; freedom from torture and inhumane and degrading treatment or punishment and freedom of peaceful assembly and of association.
This act of state terrorism and inhumanity cannot go unpunished. Maliki and all those who participated in the Hawija massacre must be brought to justice. A message must be sent to Maliki that he will no longer be allowed to kill at will with impunity.
GICJ reiterated its condemnation of the slaughter of innocent protesters and once again urged the High Commissioner to take action to ensure that it does not happen again elsewhere.
GICJ requested once again that an independent international mission be immediately established to thoroughly investigate the current attack in Hawija and all previous attacks against peaceful demonstrators exercising and asking for their fundamental rights.

GICJ further requested the Special Rapporteur on extrajudicial, summary or arbitrary executions to conduct an in-depth investigation into the arbitrary killing of the 60 demonstrators at Hawija and all those killed during previous demonstrations.

GICJ called on the Special Rapporteur on freedom of peaceful assembly and association to uptake the case of threats, intimidation and attacks on peaceful demonstrators in Iraq, as this falls directly under his mandate.

Finally, GICJ requested that a Special Rapporteur on the human rights situation in Iraq be appointed and that a special session on Iraq be held.

---
Documenting and reporting human rights violations in Iraq
| | | | | | | |
| --- | --- | --- | --- | --- | --- | --- |
| | Executions | | Human Rights Violations in the context of fight against terrorism | | Peaceful protests | |
| | | | | | | |
| | | | | | | |
| | | | | | | |
| | | | | | | |
| | | | | | | |
| | | | | | | |