By Nora Futtner / GICJ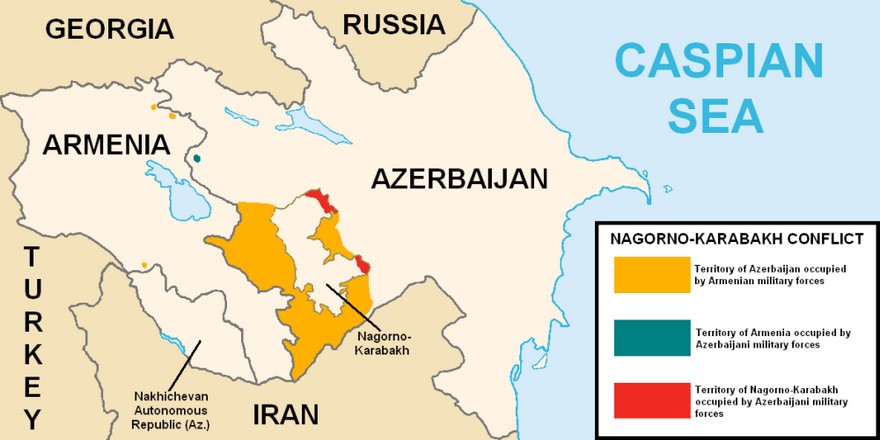 Tuesday, October 7th, 2020
Over twenty years ago, violence that started as border skirmishes escalated after Nagorno Karabakh declared independence from Azerbaijan in 1991 as The Republic of Artsakh. This resulted in a 6-year war from 1988-1994, during which it is estimated that over 30,000 people were killed. Additionally, over 440,000 Azeris were displaced from Nagorno-Karabakh and the surrounding regions and hundreds of thousands were forced to flee.
In this recent outbreak, both sides have blamed the other for escalating the conflict, a line of debate that was also present during the last major break of the ceasefire in 2016. The lack of regard for basic tenants of humanitarian law during the fighting is very concerning. Each side has accused the other of war crimes by shelling civilian areas well outside of conflict zones in order to further their military goals. The Office of the High Commissioner of Human Rights has confirmed that dozens of civilians have been killed and hundreds have been wounded.
The human cost of the escalation of violence in Nagorno-Karabakh demands to be at the center of our considerations. Even after the end of the violence, conflict has a lasting effect on civilian populations. For example, children may lose their home, their school or even their parents to the violence. It is also important to recognize that the conditions of conflict risk a spike of coronavirus cases in both Armenia and Azerbaijan, especially amongst vulnerable civilian populations who are fleeing violence and lack the ability to abide by the World Health Organizations recommendations for prevention.
Furthermore, neighboring countries should not let their political goals in the region undermine the more important goal of peace. Intervention would only escalate the violence and lead to further loss of life and mass destruction. Further, GICJ strongly condemns any and all attacks on civilians and civilian infrastructure during the conflict. Such acts are war crimes in violation of international humanitarian law and are indefensible under any circumstances. GICJ has concerns that violence against civilians could result in mass displacement similar to what occurred in the war in 1988-1994.
In summary, Geneva International Centre for Justice (GICJ) agrees with the October 6th statement by UN Secretary General Antonio Guterres urging peace and a resumption of negotiations between Armenia and Azerbaijan headed by the OSCE Minsk Group co-chairs. GICJ believes that with a good-faith attempt on behalf of all parties, compromise and agreement is possible. Importantly, both Azerbaijan and Armenia must recognize the other's historical claim to the region and come to a mutual recognition that continued violence is destructive for both sides.
Nagorno Karabakh, Artsakh, Azerbaijan, Armenia, Peace
Justice, Human rights, Geneva, geneva4justice, GICJ, Geneva International Centre For Justice
__________________________________________________________________________________________________________________________________________________________________________________________________________________________________________________________________________________________________________________________________________________________________________________________________________________________________________________________________________________________________________________________________________
Read other GICJ statements on other human rights issues by clicking on the pictures below: