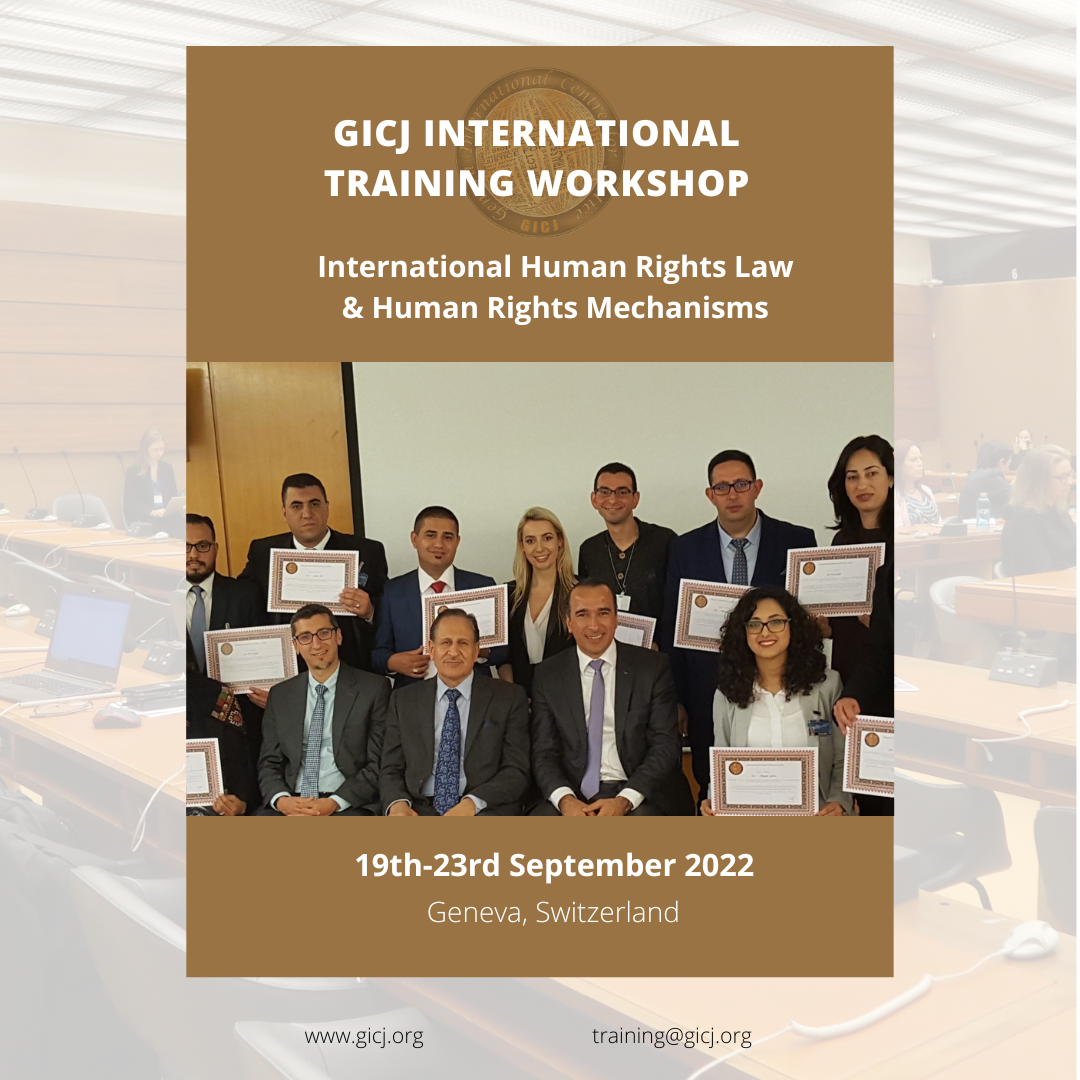 GICJ International Human Rights Training Workshop
19-23 September 2022
We are happy to share that GICJ will be organising an International Training Workshop on International Law and International Human Rights Mechanisms for English speakers from the 19th to the 23rd of September 2022. 
Our courses are designed for lawyers, university students, human rights activists, journalists, diplomats, NGO members and anyone interested in human rights.
The training programme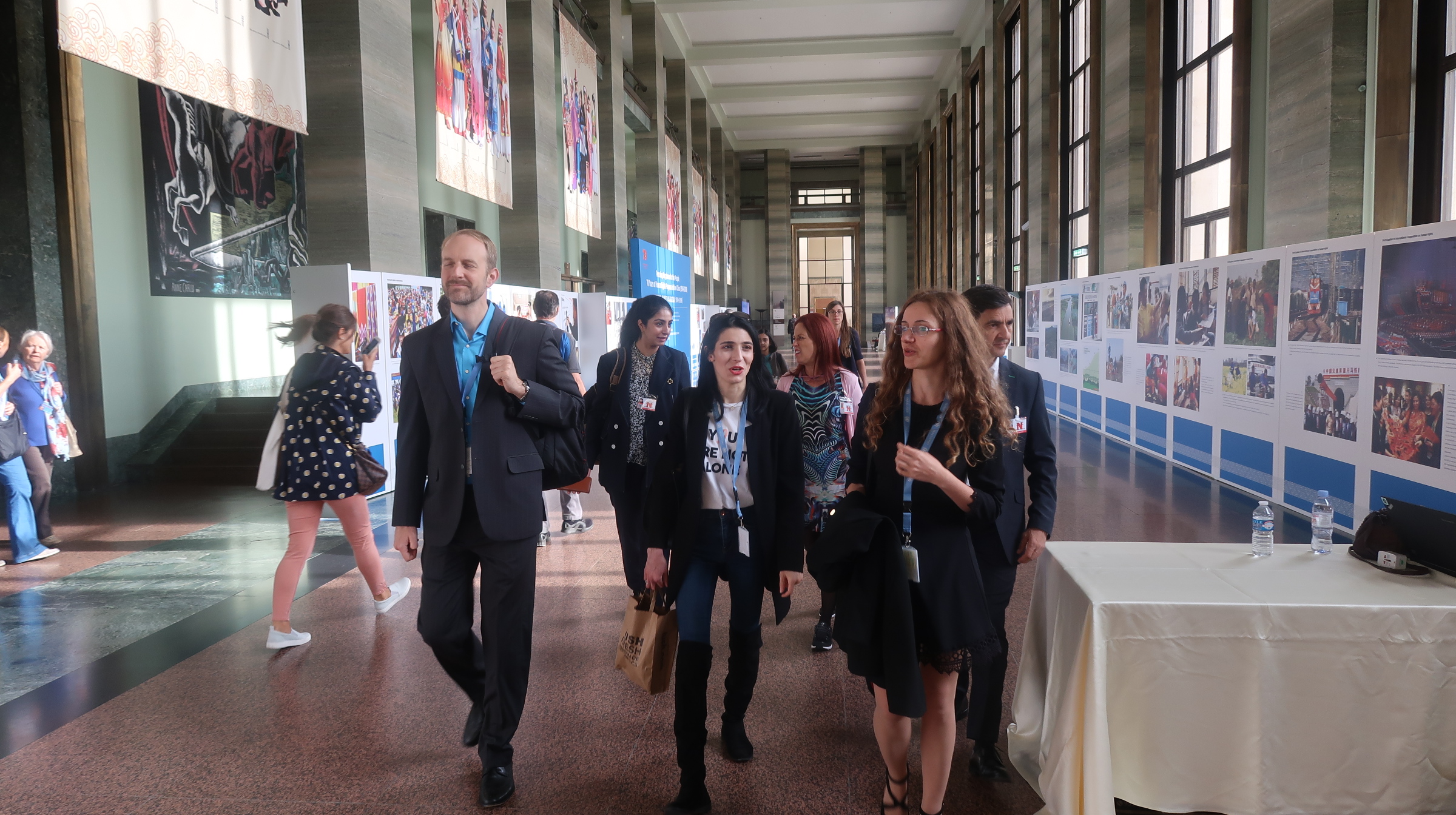 The training programme is a unique opportunity for participants to deepen their knowledge and understanding of the workings of the UN system, as well as the role of civil society in UN activities. The training brings together a diverse array of subjects relevant to human rights and their integration into diplomacy and international law and multilateral relations. 
The training will include theoretical and practical components. Amongst other things, participants will learn about the functioning of the UN and human rights mechanisms, the obligations of member states and the role of International and Non-governmental organisations.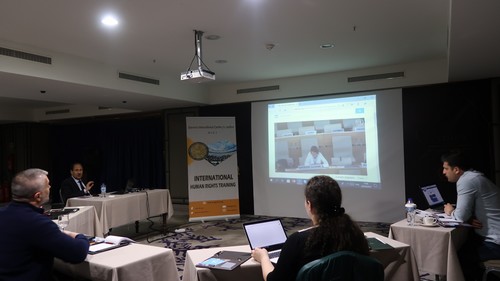 Participants will be trained to report about human rights abuses effectively and how NGOs participate and interact with various human rights bodies such as the Human Rights Council and in the context of the Universal Periodic Review. 
Trainees will learn the procedures for preparing, submitting and delivering written and oral statements at the Human Rights Council. For the Universal Periodic Review and the Treaty Bodies, participants will be taught how to draft and submit reports to these bodies and how to lobby Member States to help ensure their organisation's suggestions and concerns are addressed. 
By the end of this course, participants will: 
Acquire extensive knowledge about the UN human rights system and the functioning of various bodies and procedures and ways to interact with them;

Be able to prepare, draft, submit, and deliver written and oral statements to the UN Human Rights Council prior to and during its regular sessions;

Be able to draft and submit reports to various human rights bodies, including the Special Procedures and the Treaty Bodies;

Craft and submit letters and appeals to various UN bodies within the Human Rights mechanism, including the Office of the High Commissioner for Human Rights.

Certificate of Completion
All successful participants will receive a certificate of Completion from GICJ. 
Next Training Course
When: 19th to 23rd September 2022
Where: Geneva, Switzerland
Language: English
Training fee: 1500 CHF. 
---
Are you keen on joining? Contact us at This email address is being protected from spambots. You need JavaScript enabled to view it.. 
Please note that
Participants are responsible for all personal costs to attend the training including, but not limited to, travel arrangements, accommodation, board and medical insurance, and the course fees.
For training in Geneva, participants should try to get the Swiss or Schengen visa by themselves. GICJ can't interfere in this regard
To know more about GICJ Human Rights Training Courses click here.
---
GICJ Trainings