By Loïc Dorthe / GICJ
Executive Summary
On 11-12 August 2022, GICJ attended the 107th session of the Committee on the Elimination of Racial Discrimination (CERD), which examined the implementation of the International Convention on the Elimination of All Forms of Racial Discrimination (ICERD, the Convention) by the United States of America (USA).
The Committee was concerned about trends in racial discrimination in the USA. Despite the State party's initiatives and policies, the country still suffers from systemic racial behaviour by both private actors and state officials. For instance, among others, data shows an increasing rate of deaths of people of African descent caused by police officers, an increase in hate crimes against people of Asian descent since the outbreak of the Covid-19 pandemic, and the rise of ideas of racial superiority. A committee of independent experts reviewed the USA and raised multiple concerns to the US delegation, which had to answer in the form of an interactive dialogue. Items of discussion included the implementation of the Convention in the domestic legal order, the institutional framework, hate crimes and hate speech, excessive use of force by public officials, armed violence, education, and access to health.
The delegation emphasised the progress made due to multiple policies and executive orders to combat racial discrimination in the United States and reaffirmed the government's commitment to the Convention and to addressing these disparities. Nevertheless, the Committee brought proof of data showing an increase of disparities in several domains of the country, which can be interpreted as a lack of effectiveness or insufficiency of the measures taken by the government. In its concluding observations, the Committee not only summarised its concerns, but also presented concrete recommendations to reduce racial discrimination in the United States of America.
Geneva International Centre for Justice (GICJ) condemns all forms of discrimination and encourages states to adopt legislation and concrete policies that tackle racial discrimination at its root cause. Although we welcome all efforts made by the USA, GICJ regrets the lack of effectiveness as data demonstrates no improvement and increasingly more discriminatory cases against people of African, Asian, and Latin American descent, native Americans, and other minorities, especially since the outspread of the COVID-19 pandemic. Racism and discrimination cannot be eradicated simply by enforcing policies and regulations. It demands a far greater political will to give effect to the rights of people of all backgrounds.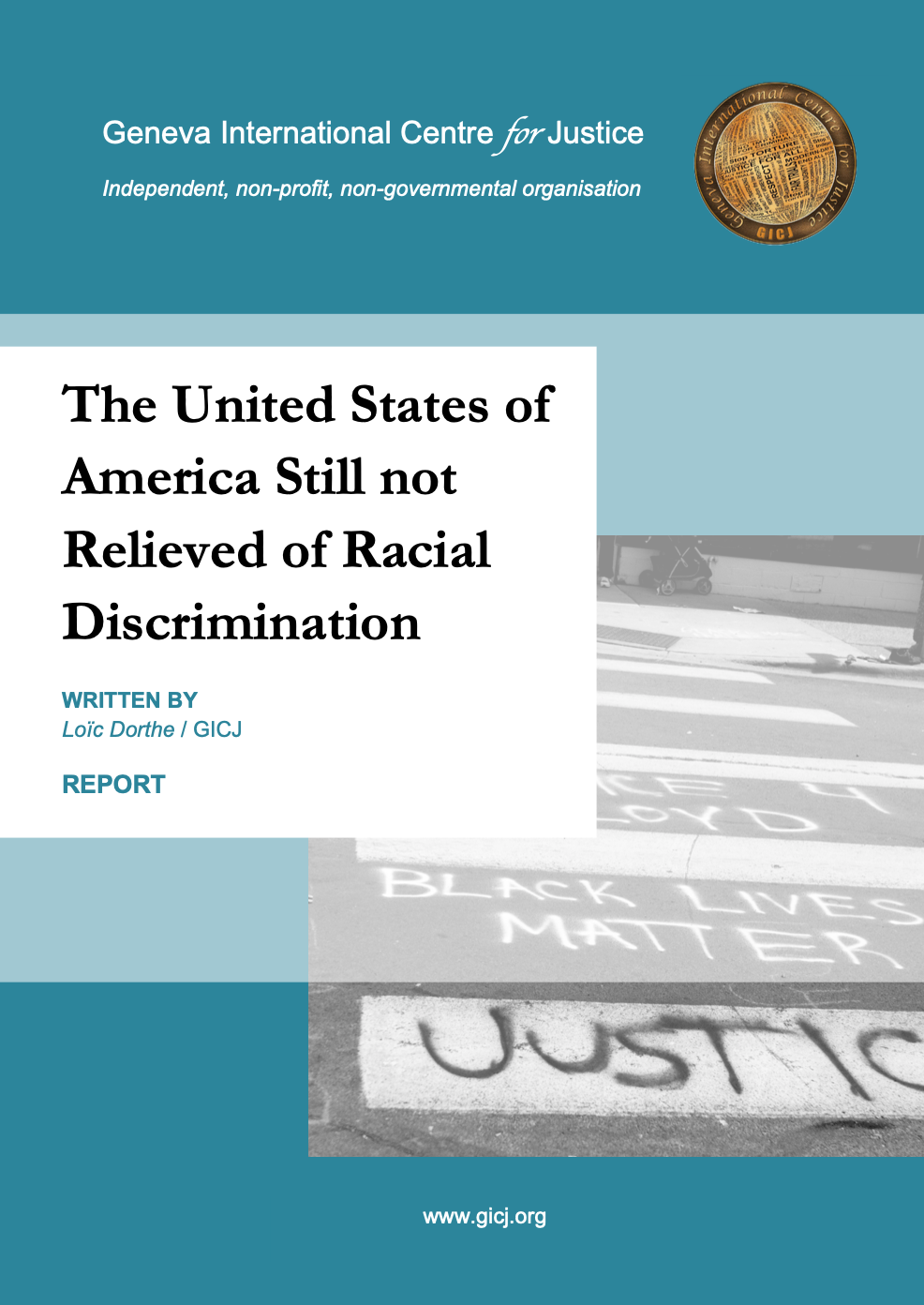 Click on the cover to access the full report
CERD, Committee on the Elimination of Racial Discrimination, USA, United States of America, UN, United Nations, Racism, Racial Discrimination, Systemic Racism, Human Rights, Justice, Geneva, Geneva4Justice, GICJ, Geneva International Centre for Justice
---