By Loïc Dorthe / GICJ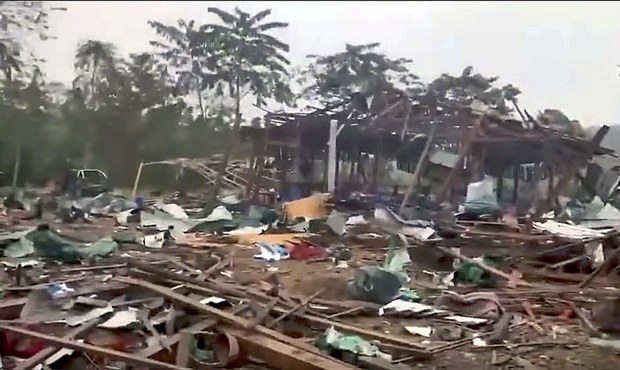 Human rights violations by the ruling junta in Myanmar continue. While the international community fails to agree on an arms embargo, the military continues to repress all political opposition and attack ethnic minorities, murdering civilians with imported lethal weapons.
On Sunday, the 23rd of October 2022, civilians in Kachin State celebrated the 62nd anniversary of the establishment of the Kachin Independence Organisation (KIO) near Hpakant Township. An estimated 300 to 500 people attended the festivities, which included a concert. At around 8.40pm, two military planes raided the event and dropped four bombs on the crowd. At least 60 people were killed and around 100 injured, making it the deadliest attack since the junta took power in the country on 1st of February 2021.
Military communication networks were initially silent, but later acknowledged a "necessary operation", as the event took place in an area used by the Kachin Independence Army (KIA) to train its troops. With only a minority of casualties among KIA officers or soldiers, and with dozens of civilians killed and wounded, the junta has once again clearly shown who it is targeting, namely ethnic minorities and civilians [1]. 
These immense human rights violations committed by the Myanmar military junta add to the evidence of their crimes. However, concrete measures that could be taken by the international community, such as the imposition of targeted economic sanctions or at least the refusal to sell arms to the illegal and illegitimate junta, are still missing. 
Geneva International Centre for Justice (GICJ) continues to denounce and call for action to protect the people of Myanmar. However, we are anything but surprised by this event. The list of human rights violations committed by the junta indicates what the future holds for Myanmar, including continued mass killings of civilians, targeted civilians representing elements of genocide, gender-based violence, oppression of political opposition, illegal deportations and detentions, and a complete lack of rule of law.
As all independent experts have described, the situation is horrific. GICJ urges the international community to take concrete action. As most of the junta's partners are neighbouring states, we call on the ASEAN states, whose foreign ministers are meeting specifically in Jakarta on Thursday, the 27th of October, to impose coordinated sanctions. While their 5-point actions were praised in the last HRC51, evidence from independent experts has shown their lack of effectiveness. We therefore call for a resumption of constructive discussions to improve the effectiveness of these sanctions. Most importantly, as this recent event proves, we call for a total arms embargo in the country, and recall that economic interests should never prevail over such horrific crimes. 
Myanmar, Junta, Human Rights, Violations, Crimes, Crimes against Humanity, Elements of Genocide, Military, Tatmadaw, Arms Embargo, Economic Sanctions, Effectiveness, International Community, Geneva, Justice, Geneva4justice, GICJ, Geneva International Centre for Justice
---
[1 & image source] https://www.rfa.org/english/news/myanmar/airstrike-10242022190133.html