By Emily Bare / GICJ
The Conflict

On the 24th of February 2022, Russia commenced a full-scale military invasion of Ukraine. As a result, thousands of civilians have been killed and thousands more have been wounded. Extensive damage has been brought upon hospitals, schools, and houses. Further, economic conditions have deteriorated, and food insecurity has heightened [1]. It is women and children who are bearing the worst impacts.
Ukrainian women are facing exacerbated barriers to meaningful economic, civic, and political participation. Additionally, the rights of women and children have been hindered by heightened risks of economic fragility, poor health outcomes, and exposure to violence.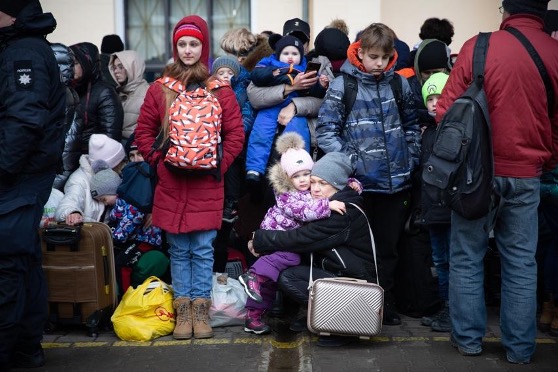 Women's Rights
A study by the United Nations Population Fund shows that violations of women's rights have been prevalent for many years in Ukraine, even before the war that broke out in 2022. This study found that 75 percent of Ukrainian women have been subject to some form of violence since the age of 15, with one in every three having experienced sexual violence [2]. Gender inequality is deeply rooted in Ukraine's society, increasing women's exposure to war crimes, gender-based violence, arbitrary killings, rape, and trafficking. Thus, the onset of the February 2022 war in Ukraine amplified the various inequalities and hardships that women in the country face.
During conflict, violence against women and girls, including sexual attacks and exploitation, generally increases two to three times. Random killings, sexual violence, torture and forced marriage are some of the devastating consequences women suffer in warfare [3]. The war in Ukraine has particularly impacted the rights of women and girls, with reports of sexual and physical violence, exploitation, and abuse on the rise [4]. Since the Russian invasion, the UN Human Rights Monitoring Team has received reports of 124 alleged acts of conflict-related sexual violence in Ukraine [5].
Further, it has been estimated that roughly 12 million people have been forced to leave their homes and are now displaced, with most of them being women and children [6]. The UN's International Organization for Migration (IOM) data suggests that as of July 2022, at least 65 percent of women were still trying to find safety in different parts of Ukraine [7]. As these women seek shelter and safety, their danger of being trafficked heightens as they look for help for themselves and their children. On the move, they also do not have the same level of access to essential services like healthcare, housing, or employment.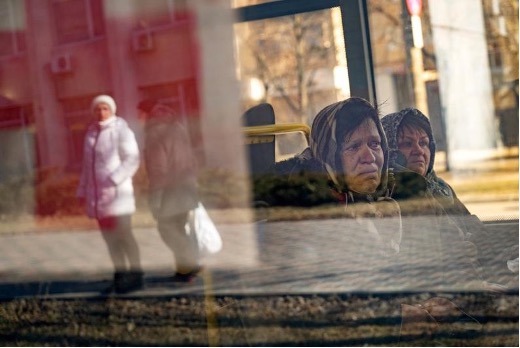 A lack of essential health services has been a major issue for women in Ukraine since the Russian invasion. The World Health Organization stated that by the 24th of March 2022, at least 64 hospitals and healthcare facilities had been bombed or shelled [8]. The shortage of service providers and supplies has also contributed to this lack of healthcare access. One of the major concerns is the lack of access to maternal care for the estimated 265,000 women who were pregnant when the conflict began [9]. This deprivation of maternal healthcare forces these mothers to give birth in high-risk conditions, endangering their own life as well as their child's. Such high risk conditions may prove to be detrimental to both the women's physical and mental health in the long-term [10].
Additionally, the Russian invasion has caused a re-distribution of family roles and functions, with more and more women emerging as heads of the household in the absence of their husbands.
Children's Rights
As a result of Russia invading Ukraine, Ukrainian children have been forced to face grave violations of their rights; thousands of children have been injured or killed, millions of children have been displaced and separated from their caregivers, schools continue to be attacked, and water and sanitation infrastructure has been impacted [11].
The Russian invasion has caused Ukrainian children to continue to be killed and deeply traumatised by the violence surrounding them. In April 2022 alone, the United Nations verified that nearly 100 children were killed, and UNICEF believes that these numbers are actually much higher [12]. As of the 9th of September 2022, the Prosecutor General's Office of Ukraine stated that the Russian attacks killed at least 383 innocent children and injured more than 743 since the 24th of February 2022 [13]. However, it also stated that these numbers are not conclusive and do not cover the full extent of the atrocities that have occurred to date. Nevertheless, the Prosecutor General's Office found ample evidence that Russian forces have killed Ukrainian children in a variety of ways, including intentionally attacking evacuation vehicles marked with the word "Children" [14].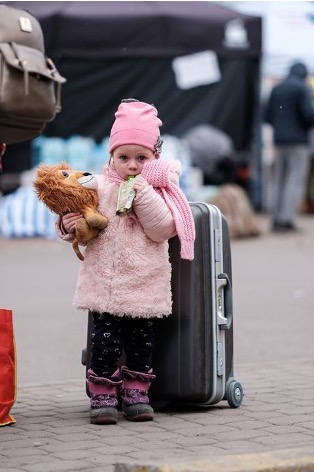 Furthermore, because of the invasion, over 2,000 educational institutions in Ukraine have been damaged by bombings or shelling [15]. The Ministry of Education of Ukraine has stated that as of the 9th of September 2022, 177 educational institutions had been bombed or shelled and 284 had been completely destroyed [16]. These attacks on schools deprive children of access to education and are in violation of the law of armed conflict principle of distinction.
As a result of these attacks against educational institutions, millions of boys of girls in Ukraine are deprived of proper education, and young girls are at particular risk of being forced out of school and into marriage, as a way for desperate families to make ends meet [17]. This lack of education for girls puts them at greater risk of early marriages, early pregnancy and childbirth, as well as gender-based and sexual violence [18].
Additionally, millions of children have been displaced from their homes and separated from their caregivers. Reports show that between 240,000 - 448,000 Ukrainian children have been unlawfully deported to Russia and Belarus or forcibly transferred to temporarily occupied territories of Ukraine [19].
The conflict has also exacerbated the risk of children living in poverty in Ukraine. UNICEF found that Russia accounts for nearly three-quarters of the total increase in the number of children living in poverty due to the Ukraine war and a cost-of-living crisis across the region, with an additional 2.8 million children now living in households below the poverty line [20].
Geneva International Centre for Justice (GICJ) stands in support of the women and children in Ukraine who are fighting for their human rights. We condemn the persistent human rights violations that continue to occur against women and children as a result of the Russian invasion of Ukraine.
We strongly condemn any acts of sexual and gender-based violence against women and girls. We speak out against the widespread internal displacement within Ukraine, particularly of women and children. We urge the international community to help in providing Ukrainian women access to healthcare, especially maternal healthcare.
We adamantly condemn the violations and killings of children in Ukraine caused by the invasion. We stand in empathy with Ukraine over the many educational institutions that have been destroyed during the invasion and call upon the international community to come together and help the Ukrainian government rebuild these facilities.
We urge all international actors to guard and protect women and children at all costs and seek to always uphold their human rights.
Human Rights, Women, Children, Ukraine, Russia, War, geneva4justice, GICJ, Geneva International Centre for Justice, Justice
---
[1] https://www.orfonline.org/research/wars-gendered-costs/
[2] https://eeca.unfpa.org/en/publications/well-being-and-safety-women?_ga=2.236636353.1123070606.1649313611-1594256654.1649313611
[3] https://www.epc.eu/en/Publications/Putins-war-on-Ukrainian-women~468c8c
[4] https://www.unfpa.org/ukraine-war
[5] https://press.un.org/en/2022/sc14926.doc.htm
[6] https://www.orfonline.org/research/wars-gendered-costs/
[7] https://www.bbc.com/news/world-60555472
[8] https://www.aljazeera.com/news/2022/3/24/who-says-64-hospitals-attacked-since-russia-invasion-of-ukraine
[9] https://www.unfpa.org/ukraine-war
[10] https://www.orfonline.org/research/wars-gendered-costs/
[11]https://www.unicef.org/press-releases/children-ukraine-need-end-war-their-futures-hang-balance
[12]https://www.unicef.org/press-releases/children-ukraine-need-end-war-their-futures-hang-balance
[13] https://lieber.westpoint.edu/russian-crimes-against-children/
[14] https://lieber.westpoint.edu/russian-crimes-against-children/
[15]https://www.ohchr.org/en/press-releases/2022/08/experts-committee-rights-child-commend-ukraine-its-commitment-child-rights
[16] https://lieber.westpoint.edu/russian-crimes-against-children/
[17] https://news.un.org/en/story/2022/09/1127391
[18] https://www.orfonline.org/research/wars-gendered-costs/
[19] https://lieber.westpoint.edu/russian-crimes-against-children/
[20] https://www.unicef.org/press-releases/child-poverty-across-eastern-europe-and-central-asia-soars-19-cent-ukraine-war-and
Image Source #1: (Flickr) https://flic.kr/p/2n75Zhs
Image Source #2: (Flickr) https://flic.kr/p/2n8KsZ6
Image Source #3: (Flickr) https://flic.kr/p/2nb9xV5