By Sivar Ahmed / GICJ
The International Organization of Migration (IOM) in cooperation with governments of Djibouti, Ethiopia, Somalia, and Yemen as well as 40 partners announced the Migrant Regional Response Plan (MRP) for 2022 with a budget of 67 million USD to provide life-saving assistance for half-million immigrants in the Horn of Africa and Yemen.[1]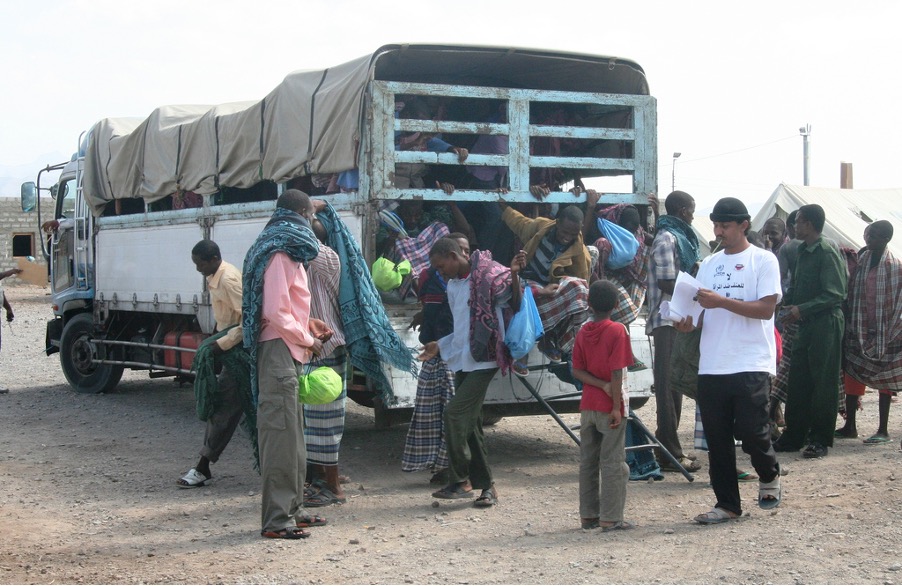 Thousands of Ethiopians flee every year through the Gulf of Aden to escape hardship living conditions in their country.  Before the 2011 crisis, Yemen was hosting more than a million African refugees, mostly Somalis and Ethiopians. Since the beginning of the war, the refugees' condition has gradually deteriorated.
Despite the ambitious efforts of the international community, Ethiopian refugees in Yemen are subjected to many violations, including burning camps, kidnapping, and being forced to join Houthi militia fighters. Illegal immigration to neighbouring countries remains one of the leading death causes of young Ethiopians, Yemen is one of the illegal crossing territories towards Saudi Arabia, Dubai, and other countries in the region. 
The UN Office in Yemen emphasised that many of these migrants are in dire need of assistance, considering that "two-thirds of Ethiopian migrants travelling through Djibouti to Yemen, did not know that there was a conflict in Yemen".[2] According to the International Organization of Migration (IOM), only 12% of these refugees want to settle in Yemen, while the rest of them see the country as the main transit point along the eastern migration route between the Horn of Africa and the wealthy Gulf states.[3]
Armed groups and extremists take advantage of the precarious situation of refugees, and exploit them to work as mercenary fighters, luring them with money to engage in illegal activities. Many young Ethiopians are involved with these armed groups, being fully unaware of their goals and ideology as they primarily aim to find refuge in wealthy Gulf countries. The above-mentioned reasons have made young Ethiopians more vulnerable and increased their chances of being recruited by extremist groups such as Al-Shabab, Al-Qaeda, and the Houthis.
There are many Ethiopian refugees in Yemen, who have been there for a long time. Many of them got involved with illegal organisations and engaged in actions preventing them to leave to another country or returning to their homeland. According to Human Rights Watch, dozens of African refugees were burned to death, on the 7th of March 2021, after Houthi security forces fired rockets at an immigration detention centre in Sanaa, Yemen's capital.
 The human rights violations against Ethiopian migrants continues in Yemen, as dozens of them have been killed and wounded on the Marib and Al-Jawf fronts with Houthis at the beginning of 2022. In addition, the Saudi-led coalition aircraft fired missiles at the detention centre in Saada on 21 January 2021. In that event, more than 60 people died, the vast majority of them being Ethiopian migrants. The Saudi-led coalition denied targeting the detention centre, claiming that the centre did not figure on the no-target lists agreed upon with the UN Office for the Coordination of Humanitarian Affairs, was not reported by the Red Cross, and did not meet the criteria set forth in the Third Geneva Convention on War Prisoners. The Houthis are now threatening Ethiopian female students with deprivation from entering general exams if they refuse joining Zainabiyat, the "female wing of Houthi".
According to HRW in April 2021, Houthi forces forcibly expelled thousands of Ethiopian migrants in northern Yemen and forced them to move toward the Saudi Arabia border. Saudi border guards then went on and fired at migrants, killing dozens of them, while hundreds of survivors fled to a mountainous border area. "Ethiopian migrants told Human Rights Watch that after they spent days stranded without food or water, Saudi officials allowed hundreds to enter the country, but then arbitrarily detained them in unsanitary and abusive facilities without the ability to legally challenge their detention or eventual deportation to Ethiopia."
Humanitarian organisations have also spotted many cases of ill-treatment by Houthis in some camps. It revealed torture and attacks on the refugees, who demanded better conditions and protested against the miserable conditions in which they live. In 2019, Human Rights Watch also documented a network of human traffickers. The organisation further shed light on Yemen authorities abducting, detaining, and beating Ethiopian migrants, extorting them and their families for money.
Geneva International Centre for Justice (GICJ) condemns all kinds of violations against civilians and migrants. GICJ is deeply concerned about the inhumane condition facing Ethiopian migrants in Yemen and urges the international community to help in returning thousands of refugees to their country, as well as fair and international investigation of the human rights violations faced by African refugees in Yemen.
Yemen, Migrants, Ethiopian refugees, IOM, International Humanitarian Law, Human Rights, Justice, Human Rights,
Geneva, geneva4justice, GICJ, Geneva International Centre For Justice
---
[1]  https://news.un.org/ar/story/2022/02/1093292
[2]  https://www.swissinfo.ch/ara//47243676
[3]  https://www.swissinfo.ch/ara//47243676
Image source: Flickr