Myanmar: 𝗜𝗜𝗠𝗠 𝗯𝘂𝗶𝗹𝘁 𝗮 𝘁𝗲𝗮𝗺 𝗮𝗻𝗱 𝗶𝗻𝗳𝗿𝗮𝘀𝘁𝗿𝘂𝗰𝘁𝘂𝗿𝗲 𝗰𝗮𝗽𝗮𝗯𝗹𝗲 𝗼𝗳 𝗲𝗳𝗳𝗲𝗰𝘁𝗶𝘃𝗲𝗹𝘆 𝗮𝗻𝗱 𝗲𝗳𝗳𝗶𝗰𝗶𝗲𝗻𝘁𝗹𝘆 𝗶𝗺𝗽𝗹𝗲𝗺𝗲𝗻𝘁𝗶𝗻𝗴 𝗶𝘁𝘀 𝗰𝗼𝗺𝗽𝗹𝗲𝘅 𝗮𝗻𝗱 𝘁𝗲𝗰𝗵𝗻𝗶𝗰𝗮𝗹 𝗺𝗮𝗻𝗱𝗮𝘁𝗲.
By Harkiran Sehgal / GICJ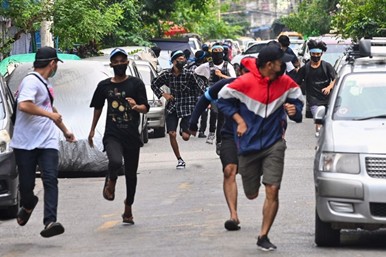 The 𝗜𝗻𝗱𝗲𝗽𝗲𝗻𝗱𝗲𝗻𝘁 𝗜𝗻𝘃𝗲𝘀𝘁𝗶𝗴𝗮𝘁𝗶𝘃𝗲 𝗠𝗲𝗰𝗵𝗮𝗻𝗶𝘀𝗺 was created to collect evidence of the most serious international crimes and violations of international law committed in Myanmar. The speakers stated that the Mechanism has been closely monitoring the situation in Myanmar, particularly reports of 𝘄𝗶𝗱𝗲𝘀𝗽𝗿𝗲𝗮𝗱 𝗶𝗻𝘀𝘁𝗮𝗻𝗰𝗲𝘀 𝗼𝗳 𝗮𝗿𝗯𝗶𝘁𝗿𝗮𝗿𝘆 𝗮𝗿𝗿𝗲𝘀𝘁, 𝘁𝗼𝗿𝘁𝘂𝗿𝗲, 𝗲𝗻𝗳𝗼𝗿𝗰𝗲𝗱 𝗱𝗶𝘀𝗮𝗽𝗽𝗲𝗮𝗿𝗮𝗻𝗰𝗲, 𝗲𝘅𝘁𝗿𝗮𝗷𝘂𝗱𝗶𝗰𝗶𝗮𝗹 𝗸𝗶𝗹𝗹𝗶𝗻𝗴 𝗮𝗻𝗱 𝘂𝘀𝗲 𝗼𝗳 𝗳𝗼𝗿𝗰𝗲 𝗮𝗴𝗮𝗶𝗻𝘀𝘁 𝗽𝗲𝗮𝗰𝗲𝗳𝘂𝗹 𝗽𝗿𝗼𝘁𝗲𝘀𝘁𝗼𝗿𝘀. The speakers reflected on the fact that the Mechanism has developed crucial substantive and operational capabilities to enable it to make important progress in implementing its mandate and advancing the priorities in this regard.
The COVID-19 pandemic and restrictions caused non negligeable operational challenges for the working of IIMM. 𝗗𝗲𝘀𝗽𝗶𝘁𝗲 𝘁𝗵𝗲𝘀𝗲 𝗱𝗶𝗳𝗳𝗶𝗰𝘂𝗹𝘁𝗶𝗲𝘀, 𝗜𝗜𝗠𝗠 𝗯𝘂𝗶𝗹𝘁 𝗮 𝘁𝗲𝗮𝗺 𝗮𝗻𝗱 𝗶𝗻𝗳𝗿𝗮𝘀𝘁𝗿𝘂𝗰𝘁𝘂𝗿𝗲 𝗰𝗮𝗽𝗮𝗯𝗹𝗲 𝗼𝗳 𝗲𝗳𝗳𝗲𝗰𝘁𝗶𝘃𝗲𝗹𝘆 𝗮𝗻𝗱 𝗲𝗳𝗳𝗶𝗰𝗶𝗲𝗻𝘁𝗹𝘆 𝗶𝗺𝗽𝗹𝗲𝗺𝗲𝗻𝘁𝗶𝗻𝗴 𝗶𝘁𝘀 𝗰𝗼𝗺𝗽𝗹𝗲𝘅 𝗮𝗻𝗱 𝘁𝗲𝗰𝗵𝗻𝗶𝗰𝗮𝗹 𝗺𝗮𝗻𝗱𝗮𝘁𝗲.
The international community must now put forward stronger coordinated actions in order to end to the crimes committed by the military authorities and restore justice and democracy in Myanmar.
𝗧𝗵𝗲 𝗿𝗲𝗰𝗲𝗻𝘁 𝗲𝘃𝗲𝗻𝘁𝘀 𝗮𝗿𝗲 𝗮 𝘀𝘁𝗮𝗿𝗸 𝗿𝗲𝗺𝗶𝗻𝗱𝗲𝗿 𝗼𝗳 𝘁𝗵𝗲 𝗱𝗮𝗻𝗴𝗲𝗿𝘀 𝗼𝗳 𝗶𝗺𝗽𝘂𝗻𝗶𝘁𝘆 𝗮𝗻𝗱 𝘁𝗵𝗲 𝗻𝗲𝗲𝗱 𝘁𝗼 𝗲𝗻𝘀𝘂𝗿𝗲 𝗮𝗰𝗰𝗼𝘂𝗻𝘁𝗮𝗯𝗶𝗹𝗶𝘁𝘆 𝗳𝗼𝗿 𝗮𝗹𝗹 𝘁𝗵𝗼𝘀𝗲 𝘄𝗵𝗼 𝗵𝗮𝘃𝗲 𝗰𝗼𝗺𝗺𝗶𝘁𝘁𝗲𝗱 𝘀𝗲𝗿𝗶𝗼𝘂𝘀 𝗶𝗻𝘁𝗲𝗿𝗻𝗮𝘁𝗶𝗼𝗻𝗮𝗹 𝗰𝗿𝗶𝗺𝗲𝘀, 𝗶𝗻 𝗼𝗿𝗱𝗲𝗿 𝘁𝗼 𝗯𝗿𝗲𝗮𝗸 𝘁𝗵𝗲 𝗰𝘆𝗰𝗹𝗲 𝗼𝗳 𝘃𝗶𝗼𝗹𝗲𝗻𝗰𝗲 𝗮𝗻𝗱 𝗽𝗿𝗼𝘁𝗲𝗰𝘁 𝗮𝗹𝗹 𝘁𝗵𝗲 𝗽𝗲𝗼𝗽𝗹𝗲𝘀 𝗼𝗳 𝗠𝘆𝗮𝗻𝗺𝗮𝗿. Therefore, GICJ reiterates the international obligations to protect the human rights and dignity of all the people in Myanmar and calls for cooperation of the states with the IIMM.
Justice, Human rights, Geneva, geneva4justice, GICJ, Geneva International Centre For Justice