June 2021
By Alexandra Grigorescu and Camille Miguet / GICJ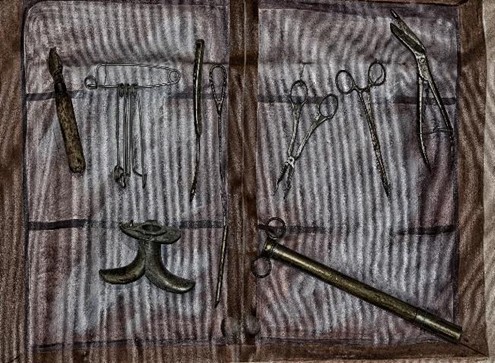 "While no human right enjoys as much consensus as the prohibition of torture, the practice continues to be a reality around the world", Nils Melzer, UN Special Rapporteur on torture and other cruel, inhuman or degrading treatment or punishment.
June 26th marks the moment when the UN Convention Against Torture and Other Cruel, Inhuman or Degrading Treatment or Punishment, one of the key instruments in fighting torture, came into effect. The United Nations International Day in Support of Victims of Torture is held annually on June 26th to speak out against the crime of torture and to honour and support the victims throughout the world.
Torture is the intentional destruction of a human being by another by inflicting severe pain and suffering, using various methods, with the objective to break a person and deny they are human. Therefore, at all times and in all circumstances, the use of torture is prohibited under international law.
The use of torture during an armed conflict constitutes a war crime, and when it is used in a systematic or widespread manner, it also amounts to a crime against humanity. As States struggle with their response to violent extremism, it is essential to remember that torture can never be used to fight terror; in fact, torture terrorizes. The use of torture is wrong from a moral point of view and also from a strategic and a legal standpoint.
The very fundament of democracy is being hurt by practicing torture, and justice and human rights are being undermined with this practice. Victims of torture have the right to compensation and rehabilitation. They also deserve to know the truth, and this is why it is so critical to investigate instances of torture, identify the perpetrators, and bring them to justice.
The COVID-19 pandemic increases the risk of abuse and torture worldwide, highlighting the urgent need to adopt effective measures to combat these atrocious acts and the impunity of those responsible for them. In addition, the Special Rapporteur on torture has stated that in recent years, nine out of ten allegations of torture and ill-treatment by governments in all regions of the world have either been completely ignored or have not been responded to in a way that effectively prevents, investigates, or remedies the violation in question.
With this report, which highlights numerous ongoing crimes of torture around the globe, Geneva International Centre for Justice (GICJ) wants to remind that despite its absolute prohibition, torture is still practiced and continues to cause thousands of victims around the world. GICJ remains committed to put an end to impunity for reported torture and calls on the international community to take effective measures in order to prevent torture and to compensate victims and their families. GICJ calls on states to refrain from using torture to silence dissent and to stop the authoritarian repression of the population and the infringement of their fundamental rights. GICJ remains committed to put an end to impunity for reported torture and to finding and convicting the perpetrators of these horrific crimes. An appropriate legislative framework and institutional mechanisms allow for prompt and effective investigation, prosecution, and punishment of those responsible for violations. We support the work of the United Nations and the Committee against Torture in implementing the 1984 Convention which should be signed and ratified by as many states as possible. GICJ encourages all states to ensure full compliance with their international and national commitments in the fight against torture. Despite the criminalization of the use of torture in many national laws and the gradual incorporation of the principle of universal jurisdiction for acts of torture, many survivors remain unrecognised and without support. It is urgent that we unite and support the thousands of people who have been or are still victims of torture through rehabilitation programs. The collective mobilization of the various human rights actors (United Nations, States, NGOs, etc.) is necessary and must be a priority in the fight against torture and other ill treatment.
73 years after the adoption of the Universal Declaration of Human Rights and 36 years after the adoption of the Convention against Torture prohibiting torture in absolute terms, torture is still dangerously widespread. More action is urgently needed so we can all live in a world completely free of torture.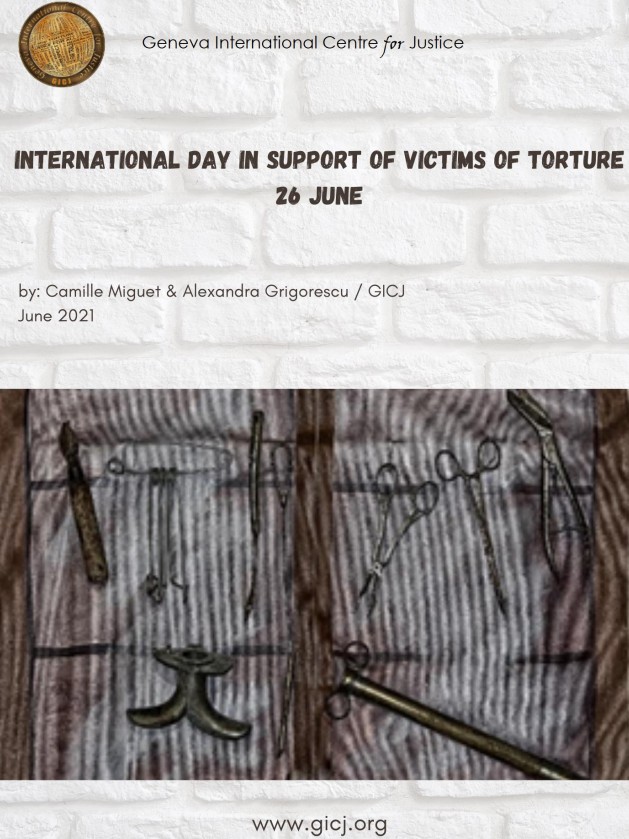 Click on the cover to access the full report.