20.08.2018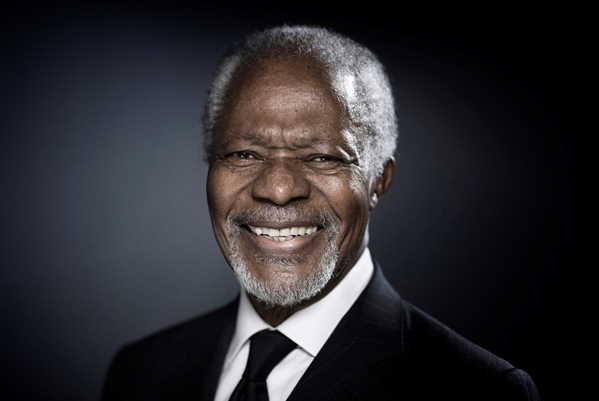 [Photo source: enca.com]
Geneva International Centre for Justice (GICJ) is especially saddened by the sudden passing of former United Nations General-Secretary (from 1997 to 2006), Mr. Kofi Annan on 18 August, 2018. He was known as one of the most courageous leaders, a champion for human rights, and a leader of peace. Kofi Annan, while soft spoken, was stern in his delivery and words and was known for his compassion, warm spirit, intelligence and dignity and respect for humanity.
Kofi Atta Annan was born on April 8, 1938 in Kumasi, Gold Coast (now Ghana) and studied economics at Macalester College, international relations at he Graduate Institute Geneva, and management at Massachusetts Institute of Technology (MIT). He began his career in 1962 with the World Health Organisation (WHO), in Geneva, Switzerland and spent nearly his whole career with the UN serving under several capacities on a number of administrative posts, including the UN Emergency Force (UNEF II) in Ismalia, the United Nations High Commissioner for Refugees (UNHCR), various senior posts at the UN headquarters in New York, and the Under-Secretary-General for peacekeeping right before being appointed as the UN Secretary-General on 13 December 1996 by the Security Council and confirmed by the General Assembly where he served two terms until 2007. Kofi Annan jointly with the United Nations won the Nobel Peace Prize in 2001.
"More than ever before in human history, we share a common destiny. We can master it only if we face it together. And that, my friends, is why we have the United Nations." UN Millennium Message - Kofi Annan
At the outset Annan immediately improved relations between the UN and some of its member states, reformed the UN bureaucracy including reducing the UN budget, and streamlined its operations. His priorities were to restore public confidence in the UN, combat the AIDS virus (especially in Africa), and end human rights abuses.  To this end, Annan also proposed and elevated the Commission on Human Rights with the Human Rights Council as he was very much concerned with new needs and politicization of the Commission that undermined the work and credibility of the UN as a whole.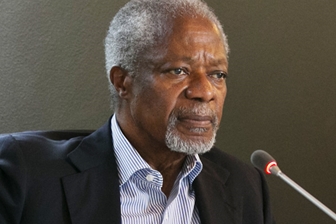 [Photo source: nilepost.com]
His second term as Secretary-General came in 2001, the year the September 11 Attacks took place. In light of this, Annan made global security and terrorism major issues. He also strongly denounced the US invasion of Iraq calling it an "illegal act" and that we must learn from these "painful lessons". Mr. Annan was also critical of the actions and/or non-actions by the UN as he expressed deep regret that it did not do more to prevent and end the 1994 Rwanda Genocide, saying that the painful memories "influenced much of my thinking, and many of my actions, as secretary-general"  . In 2005 he appointed a panel to analyse the UN's response to global threats and added many recommendations that he presented to the UN General Assembly, many of which were adopted. In addition, Kofi Annan acknowledged the value and contributions of civil society and promoted for a bigger civil society space and a stronger voice.
Annan on Iraq
The invasion of Iraq was one of the toughest issues Kofi Annan tackled during his tenure as Secretary-General of the UN and on numerous occasions condemned the invasion. During a BBC interview on September 16, 2004, Kofi Annan, declared that the war in Iraq was illegal - "I have indicated it was not in conformity with the UN charter. From our point of view and from the charter point of view it was illegal." He also expressed that the Iraq invasion was not sanctioned by the UN Security Council. Annan condemned the acts of torture of Iraqi prisoners by the US forces, and the disrespectful acts towards civilian, especially children and called such acts as "disgraceful abuse" and cited them as an example showing the violations of fundamental laws.
On 4 December 2006, Mr. Annan during a BBC interview, expressed his views on the situation of ordinary Iraqi people, which he believed was more dangerous than under the rule of Saddam Hussein because the violence in the county is "more than" a civil war. He stated that, "If I was an average Iraqi, I would make the same comparison [about life under Saddam]." In his opinion, Iraq was the toughest issue he had dealt with through his 10 years of tenure and also believed that the war in Iraq could have been prevented if more time was given to the weapons inspectors. The UN's ability to prevent the invasion of Iraq remained his biggest regret along with the bombing of the UN Headquarters in Baghdad that claimed the lives of 23 people.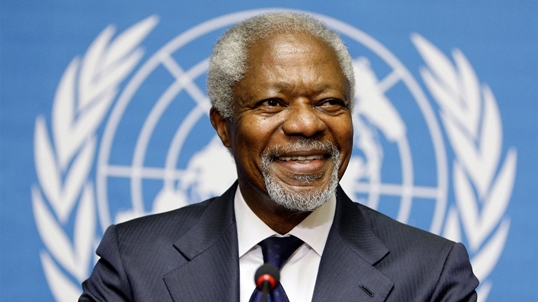 [Photo source: softpower.ug]
Years after the UN
Kofi Annan with Kenya's President Mwai Kibaki and Opposition leader Raila Odinga. [abc.net.au]
After his term ended in 2006, Kofi Annan continued working for peace including a critical role in the 2007 Kenyan election crisis where he convinced the two major parties to participate in the Kenya National Dialogue and Reconciliation Process (KNDR), which averted an election conflict. With regards to Africa on a whole he has continuously called on the people of African nations to elect younger leaders, and has called on African governments to "look after their interests and make sure that the agreements they sign are mutually beneficial". On numerous occasions he has also reminded the private sector to make fair and mutually beneficial agreements and has encouraged and promoted closer partnerships between NGOs, the private sector, and civil society.
In 2007 he founded the Kofi Annan Foundation, which is a non-for-profit organisation that promotes peace, sustainable development, human rights, and the rule of law and was also awarded the Peace of Westphalia Prize the following year. He also served as chair of the Global Commission on Elections, Democracy and Security and was a critical monitor to the South Sudanese Independence Referendum in 2011. In 2012, he co-authored with Nader Mousavizadeh a memoir entitled "Interventions: A Life in War and Peace" that chronicled and highlighted his time at the "centre of the world stage". That same year Annan was appointed as the Joint Special Envoy for Syria by the UN and the League of Arab States and was asked to lead the Advisory Commission on Rakhine State in September 2016.
Annan on Syria
In August 2012, Mr. Annan resigned as the UN-Arab League Mediator to Syria, after being appointed in February 2012, because of a lack of unity between the world powers and increasing militarisation. He termed his role as "mission impossible" and said, "The world has let down the people of Syria, leaving tens of thousands to die as neighbouring nations wage proxy wars instead of working to prevent the bloodshed that has engulfed the country for the past three years," the former UN Secretary General stated during an interview for The Guardian on 23 May 2014.  Mr. Annan believed that no country would want to get involved in a conflict like Syria and expressed his concerns over the proxy wars between regional powers that play disruptive roles in the case of Syria.
Geneva International Centre for Justice commemorates the life and legacy of Kofi Annan by promoting and protecting human rights, solidarity, and justice and by being a strong voice for civil society at the United Nations.
"Education is a human right with immense power to transform. On its foundation rest the cornerstones of freedom, democracy and sustainable human development" - Kofi Annan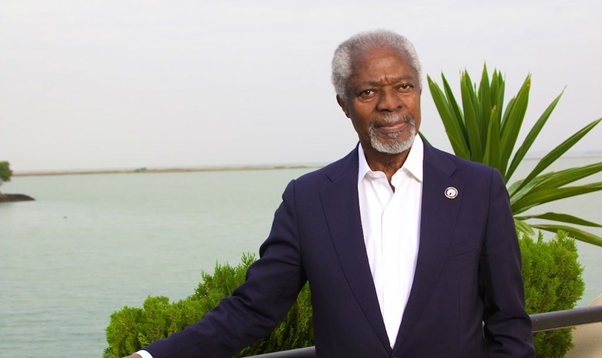 [Photo source: thenerveafrica.com]
Tributes by world leaders and others:
"Kofi was humanity's best example, the epitome, of human decency and grace.  In a world now filled with leaders who are anything but that, our loss, the world's loss becomes even more painful.
When I told him once how everyone was grumbling about me, he looked at me — like a father would look at a son — and said sternly: "you're doing the right thing, let them grumble."  Then he grinned!  There are some human beings who will seem irreplaceable to us, rare human beings.  Kofi Annan is high among them."  - Zeid Ra'ad Al Hussein, UN High-Commissioner for Human Rights
"We give great thanks to God for Kofi Annan, an outstanding human being who represented our continent and the world with enormous graciousness, integrity and distinction." — Desmond Tutu, Former South African archbishop
"Kofi Annan was a guiding force for good," the current secretary-general Antonio Guterres said. "In many ways, [he] was the UN. He rose through the ranks to lead the organisation into the new millennium with matchless dignity and determination." – Antonio Guterres, Secretary General of the United Nations
"Kofi Annan never gave up working for the good in the world. [He] knew how to get people engaged, and became a role model, especially for young people all over the world." – Angela Merkel, German Chancellor
 "I sincerely admired his wisdom and courage, his ability to make informed decisions even in the most complex, critical situations." - Vladimir Putin, President of Russia
"Today, the world mourns a great leader and humanitarian but celebrates a life full of courage, empathy and remarkable public service. He devoted his life to making the world a more peaceful and united place.
"He fought to end suffering and injustices across the world and helped to rebuild bridges where they had been destroyed." - Jean-Claude Juncker, European Commission chief
"The world has lost a great humanitarian, leader, and self proclaimed 'stubborn optimist'. Rest in peace, Kofi Annan." - Jacinda Ardern, New Zealand prime minister
"Tragic to learn about Kofi Annan's death. He personified what is best about the UN, and also had to deal with some of it's hardest challenges. A great listener, and someone who made everyone want to listen." - Margot Wallstrom, Swedish foreign minister
"Kofi had an interesting combination of traits, he was reserved and disciplined on the one hand, and on the other he could be kind of playful,
"He handled things so calmly and with such assurance. He had an enormous amount of charm and terrific political instinct." – Frederic Eckhard, Annan's spokesman and adviser