GICJ calls on UN to investigate human rights compliance of anti-terror measures in Iraq
Anti-Terrorism measures undermine fundamental human rights
GICJ has sent an urgent appeal to the UN Special Rapporteur on the promotion and protection of human rights and fundamental freedoms while counter-terrorism, Ben Emmerson, and called on him to investigate the continuous human rights violations committed by the Iraqi government in the name of combating terrorism. These human rights violations include mass campaigns of arbitrary arrests, disproportional violence against peaceful protesters, lack of fair trials, the retrieval of confessions under torture and finally the political recourse to capital punishment.
The official justifications for these measures are on thin ice. They are grounded in the Anti-Terrorism Law No.13 of 2005, which was created under the guise of national security and protection from terrorist attacks. The provisions of the law however are extremely restrictive. Not only are they vague and susceptible to various interpretations, they also provide capital punishments for a full range of offenses that cannot be considered as "most serious crimes" and are frequently applied on a sectarian base, used as a weapon wielded against political opponents, journalists and intellectuals in order to stifle public criticism.
One of the latest examples was an operation launched by the Iraqi government in August 2013, when the Iraqi government introduced the "Thár al-Shudadá" (translated: "Martyr's revenge"), in course of which the number of arrests reached 1,500 and dozens were left killed. In line with the official rhetoric all those arrested and killed were "terrorists". First hand information received by GICJ however contradicted this view and indicated a sectarian operation, in course of which many innocent were arbitrarily arrested. A press release issued by GICj on this matter can be found here. Campaigns like this are carried out time and again, frequently using militia tactics. In course of such operations residential areas are attacked, properties destroyed, restrictions on movement imposed and arrests conducted without arrest warrants and without evidence. The disproportional level of force includes the use of tanks, helicopters, army vehicles and artillery.
Highly concerned about such blatant human rights violations under the guise of anti-terrorism, GICJ urged the Special Rapporteur to intervene and investigate the Iraqi government's actions and strategy in general as well as the legality and application of Anti-Terrorism Law No 13 in particular. Under his mandate he is to ensure that counter-terrorist measures comply with international fundamental principles while allowing nations to pursue an anti-terrorist operation to protect its population. Regrettably as in the case of Iraq the fight against terrorism has often displaced international human rights law and established new legally vague terminology. It is not to protect the people, but primarily working against them.
In its appeal, GICJ therefore provided background information on the various human rights violations brought about by anti-terrorism campaigns of the Iraqi government and also warned about implications caused by the corrupt and flawed judicial system. The Iraqi government's actions are built around legislation established under the US occupying in 2005 and the major issue is the lack of clear definitions of perpetrators and crimes as well as its sectarian application. Such a strategy leads to a modern witch hunt and questions the quality of proof of actual terrorist activities.
Next to the alarming number of arbitrary mass arrests and executions based on the Anti-terrorism law, disproportionate violence against peaceful demonstrators by the Iraqi armed forces is another aspect of the Iraqi government's human rights violations. Over the year numerous demonstrators have been reported to have been victims of violent raids by the government's military and security forces and In many cases peaceful manifestations were either not granted permission on grounds of national security' or violently dispersed despite an official permission, such as happened in Al Hawija, when 200 people were killed or wounded although numerous witness accounts firmly sustained that no protestors were armed. (See GICJ appeals from 23 April and 26 April 2013 and the testimony of Mr. Thamer Hussein Mousa, whose son was shot in from of his eyes). Iraqi people are forced to either support a corrupt state or to stand up against human rights violations and be labelled a terrorist, an expression that should rather be seen as a synonym for "critic of the regime" .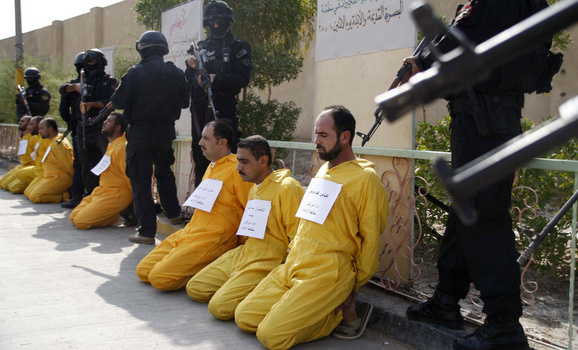 In the appeal GICJ further gave background information on the lack of fair trials inside the Iraqi criminal justice system, which stands in direct relation to arbitrary detentions, torture and capital punishment. Over the past years countless international bodies and NGOs, including The United Nations Assistance Mission for Iraq (UNAMI) as well as the High Commissioner for Human Rights herself have expressed serious concerns about the criminal justice system in Iraq. Trial proceedings fall short of international standards and abuses of due process, lack of access to legal defense mechanisms up to death sentences based on confessions enforced under torture render the Iraqi judicial system deeply flawed and fraudulent.

GICJ urged Special Rapporteur Emmerson to investigate human rights compliance of anti-terror measures in Iraq, notably the misuse of the Anti-Terrorism Law No. 13 and pressure for its immediate amendment.

The numerous cries for help from inside Iraq received by GICJ, desperately begging to stop the Iraqi government from continuing its human rights violations, make it clear that there is a serious problem on the ground, but also a great danger that the Iraqi government's warlike rhetoric blinds the international community's eyes from seeing the atrocities committed in the name of security, where it is its responsibility to assure that a governing state's response to alleged terrorism must be located within the legal frameworks of international human rights law.

The war against terrorism fits no legal paradigm and it is the role of the United Nations in general and the Head of the UN Mission for Iraq in particular to investigate and report on human rights abuses, protect individuals and ensure that the country implements the international principles of the Universal Declaration of Human Rights. Encouraging the Iraqi government to continue its policy and providing moral support for human rights violations under the guise of anti-terrorism can only lead to more instability and bloodshed.

---
Documenting and reporting human rights violations in Iraq
| | | | | | | |
| --- | --- | --- | --- | --- | --- | --- |
| | Executions | | Human Rights Violations in the context of fight against terrorism | | Peaceful protests | |
| | | | | | | |
| | | | | | | |
| | | | | | | |
| | | | | | | |
| | | | | | | |
| | | | | | | |