4 April 2020
Summary of the Report
The Situation in Rakhine State and the treatment of the Rohingya people over the past years and decades has been nothing short of alarming. Hundreds of thousand Rohingya Muslims are de facto stateless, violent persecution by governmental armed forces forced them to leave the country and seek refuge in Bangladesh. Remaining Rohingya in Rakhine State are still being persecuted and the Myanmar government develops new tools of suppression while evading accountability for Crimes against Humanity and Genocide.
While all those atrocities were and are being committed, the international community does not to recognize the urgency of the situation and fails to act fast and with the necessary determination. Despite the progress made within the past years, we still believe that much more needs to be done to free the Rohingya people from human rights violations in the future.
The report will begin by elaborating on the background of the conflict and explain the international legal framework that has been violated. Following, the focus of this report will shift to the events that took place in Myanmar between the end of 2017, which marks the "official end" of the clearance operations, and 2020. Despite the end of the official "clearance operations" in the end of 2017, Myanmar did not stop violating international law, Rohingya are still being persecuted and discriminated, the crimes of the Myanmar government simply do not get as much recognition as in the time period before 2018. In specific we report on the National Verification Cards (NVC) that are enforced on the Rohingya population, the poor conditions in Bangladesh's refugee camp and the failed repatriation process. The report will show how international law has been and is being violated and how international procedures fail to correctly address the situation.
Furthermore, this report analyses the response of the international community with a focus on the recent ICJ ruling on Myanmar. We consider the ruling of the ICJ a milestone in the protection of the Rohingya and hope to see continued steps in this direction.
Over the past years, Geneva International Centre for Justice published various forms of reports[1], and statements to raise awareness for the situation of Rohingya Muslims.[2] In the end of this report will summarize our work on Myanmar and the Rohingya and propose recommendations that will ensure a safe return of all refugees to Rakhine State as well as the possibility of a peaceful way forward.
The aim of the report is to raise awareness of the current situation in Myanmar. GICJ recognizes various reports published by the UN and independent fact-finding missions, as well as adopted resolutions, yet we do not recognize a significant improvement for the Rohingya population. Thus, this report calls upon the international community to work on the peaceful repatriation with the same interest and effort as in 2017, when the "clearance operations stopped.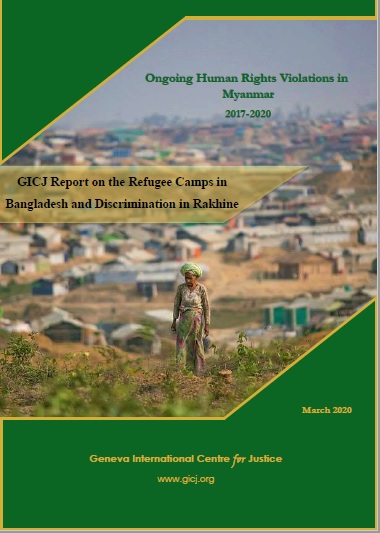 Download the full report here.
---
[1] GICJ, Save Rohingya from Genocide (2017) [online available at: https://www.gicj.org/gicj-reports/1298-save-rohingya-from-genocide]
[2] GICJ Oral Statement, 43rd Session of Human Rights Council (2020) [online available at: https://www.youtube.com/watch?v=lg04fO02K2M]