The 48th Session of the Human Rights Council
13 September - 8 October 2021.
ITEM 4: Human rights situations that require the Council's attention
Half-day panel discussion on deepening inequalities exacerbated by the COVID-19 pandemic and their implications for the realization of human rights (HRC res. 45/14)
28t September 2021
By: Alicia Louise/GICJ
Executive Summary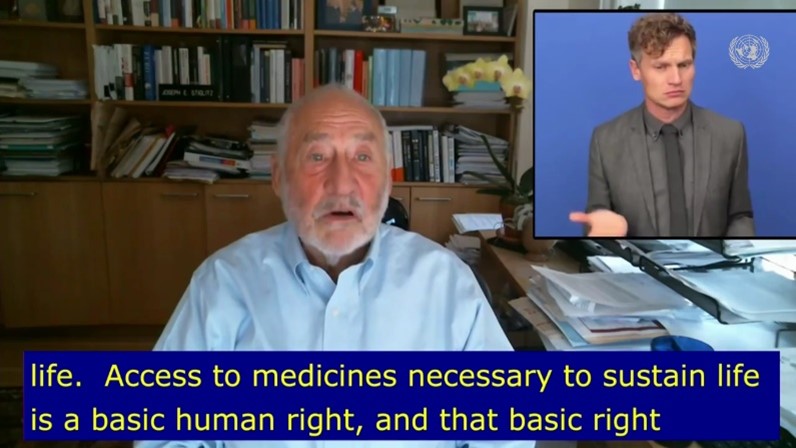 The 24th meeting of the 48th session of the Human Rights Council focused on the practical implementation of the 2030 Agenda for Sustainable Development, and Goal 10 of the SDGs on reducing inequality within and among countries. The dialogue revolved around ensuring vaccine equality among States, providing inclusive, equitable and quality education for all, bridging the digital divide, as well as, guaranteeing the right to the best state of physical and mental health during COVID-19. State representatives submitted their requests for assistance, shared best practices and solutions to challenges, including in the context of integrated approaches for the promotion and protection of human rights. The discussion also addressed the necessity of increased international cooperation.
High Level Panel Discussion
 Opening Statements
Ms Michelle Bachelet (United Nations High Commissioner for Human Rights) opened by reflecting on the consequences of the gross disparities created and exacerbated by the COVID-19 pandemic. While the resilience of individuals and States appear to be undermined by the lack of protection and promotion of human rights, the Commissioner expressed particular concern about the steps back in terms of women and indigenous peoples' equality. Additionally, the increase in extreme poverty and hunger, with the pandemic leading to the first rise in poverty in 20-years, has forced an additional 119 to 124 million people into extreme poverty in 2020. In this regard, Ms Bachelet urged states that the high-level panel meeting "must be more than a discussion", and "must lead to powerful action." Thus far, States failed to honour the commitments outlined in ratified human rights instruments and SDGs goals, which are the foundations to build an inclusive and stable economy and society. Further to this, international solidarity, responsible business practices, universal social protections, access to vaccines for all, full participation in public matters, and the introduction and maintenance of non-discriminatory policies, are key elements for build back better.
Regarding global disparities in access to vaccines, economist and public policy analyst, Mr. Joseph Stiglitz, stressed how the equal provision of treatment is essential in realising the fundamental right to life of all persons. A strong and stable recovery from the pandemic will be achieved only if the virus is contained everywhere, an achievement that demands access to vaccines for all. Mr Stiglitz further addressed the issue of excess national indebtedness for many states, which is currently an 'insurmountable hurdle' that requires the development of a fresh framework to be overcome. In this regard, the co-operation of public and private sector bodies, and governments is indispensable to achieve a "recovery that is global in nature". 
Gordon Brown (former Prime Minister of the United Kingdom, Northern Ireland and Scotland, and UN Special Envoy for Global Education) pointed out that high income countries have purchased and managed 61 times the doses administered in low-income countries. Mr. Brown forecast that this will result in 300 million unused vaccines in the West by the end of September 2021. In this regard, he requested a detailed monthly updating to deliver unused vaccines to those countries most in need.
Additionally, he expressed disappointment about the hoarding of masks, personal protective equipment and ventilators at the beginning of the pandemic by high-income countries. Indeed, in August 2021, the European Union had been airlifting millions of vaccines out of Africa, where only 2% had been vaccinated.
Ms. Tlaleng Mofokeng (Special Rapporteur on the right to physical and mental health) argued that the genesis of today's widespread inequalities found its roots in patriarchy, colonialism, slavery, apartheid and neo-colonialism. Women, queer people, gender-diverse people, racial and ethnic groups, persons with disabilities, black people and people of African descent, and other vulnerable groups are the one who have been affected the most. The current health crisis made them victims again since the spread of the virus seems led by structural and socio-economic disparities within and between countries. In this regard, Ms Mofokeng urged States and businesses to halt vaccine nationalism and profiteering, as they constitute grave human rights violations. 
According to Magladena Sepúlveda (Special Rapporteur on extreme poverty and human rights) the spread of COVID-19 highlighted the need of increasing investment in public services, including treating care workers as a collective good with sufficient remuneration and resources to ensure trained staff and high-quality care services. Further to this, the adoption of environmental-friendly recovery packages that adhere to the provisions of the Paris Agreement are crucial to build back better.
Participating delegations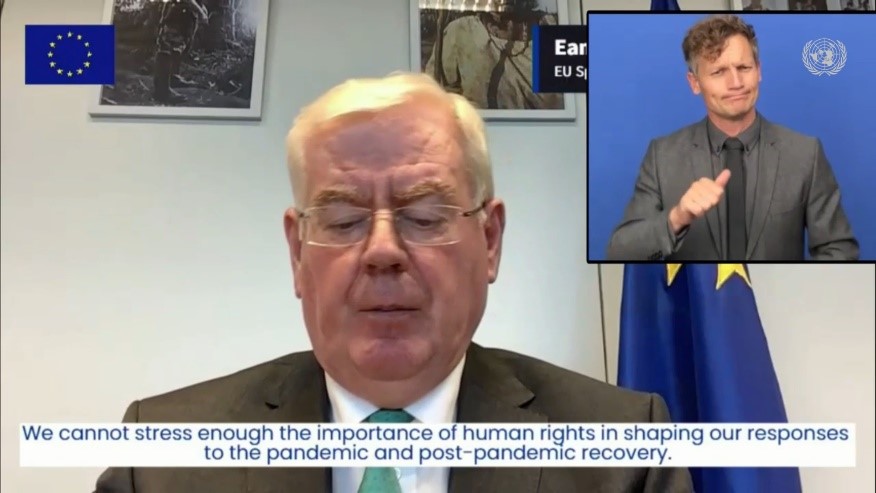 The EU recalled its efforts during the pandemic by delivering over 700 million doses to more than 130 countries and the team Europe's contribution of €3.2 billion to the COVAX facility as part of an emergency response in 2020. The EU reiterated its commitment to donate 450 million vaccine doses by mid-2022. To conclude, the representative reiterated that the COVID-19 pandemic must not be used to restrict democratic and civic space, suppress press freedom and access to information, democratic processes, and respect for the rule of law. Undermining such fundamental rights and freedom will only exacerbate inequalities and discrimination.
Finland, on behalf of the Nordic and Baltic Countries, expressed concerns about the restrictions put in place to slow down the spread of COVID-19, which in turn undermine and violate civic spaces and the work of human rights defenders, journalists and media. An open, pluralistic and inclusive civic space is essential for the realisation of human rights for all and achieve sustainable development.
Cameroon, on behalf of a group of African countries, expressed disappointment that despite the call for international cooperation and equal vaccine distribution, most doses can be found in wealth countries. Accordingly, the representative of South Africa pointed out that of the 6 billion vaccines administered globally, only 2% have been administered in Africa which has more than 1.3 billion inhabitants. In this regard, South Africa and Indonesia urged the WTO to approve proposals to waive the TRIPS Provision, so States may manufacture and acquire vaccines directly.
Civil Society Organizations
In the ensuing debate, civil society organization took the floor to share their concerns. One NGO shared its research about inequalities faced by children. After having collected the views and experiences of over 30,000 children in 137 countries, the initiative revealed how COVID-19 has disproportionately impacted children, especially those from marginalised groups such as migrant, refugee and asylum-seeking children, children with disabilities, LGBTQI+ children, and other vulnerable groups. Another NGO highlighted how children in rural areas face unequal access to online classes and are at greater risk of abuse and violence at home. In this regard, it is crucial that governments develop and implement strategies to safely return children to school and address the mental health consequences that the pandemic had on them.
Another NGO turned the spotlight on prisoners who continue to be marginalized from COVID-19 responses despite facing heightened risk due to low hygienic conditions in prisons. Moreover, measures to contain the spread of the virus have had a severe impact on prisoners' mental health, rehabilitation and human rights. The NGO urged States to ensure people in prisons fundamental rights and protection, especially during the health crisis.
Concluding Remarks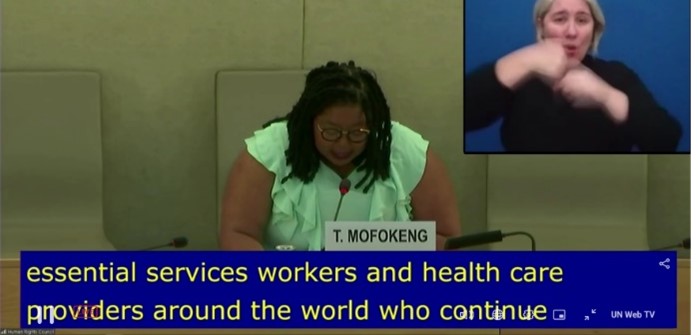 Considering the vaccine inequality as the "most blatant indicator of the divide between global North and South", Mr. Brown urged the international community to stop such trend. In agreement, Ms. Sepúlveda required the political will of world leaders to tackle the human rights impacts of the pandemic.
Ms Mofokeng called on States to take the necessary measures to protect the mental health and wellbeing of healthcare workers, who are responsible for delivering quality services all. , As a key factor for the realisation of equality, she called for greater transparency and accountability from leaders in regards to contracts signed with pharmaceutical companies. Ms Mofokeng requested that developing countries receive immediate funding and resourcing for scientific research and development. This will foster regional strength which ultimately will guarantee free access to vaccines for all. To counter the pandemic, it is crucial that everyone who needs and wants to get vaccinated should be able to do it.
Position of Geneva International Centre for Justice
Geneva International Centre for Justice (GICJ) stresses the impact that the pandemic has had on  existing inequalities. We urge the international community to guarantee access to vaccines for everyone recalling that "no one is safe until everyone is safe". During the health crisis, no one must be left behind. Vulnerable groups should receive quality healthcare and protection regardless of their status.  
Further to this, we note with concern that some countries are facing dual or multiple pandemics simultaneously, as armed conflict, climate change disasters and high rates of violence have been dramatically exacerbated by the current health crisis. The international community must take any necessary step to tackle such issues and void all the progress made so far will vanish. Geneva International Centre for Justice recalls that everyone is born free and equal in dignity and rights. To recover from the pandemic and build back better, the international community must lay down solid foundations to build a more inclusive and equal society.
Justice, Human rights, Geneva, geneva4justice, GICJ, Geneva International Centre For Justice
---
 Previous Reports from the 48th Session of the UN Human Rights Council