By Khoa Doan / GICJ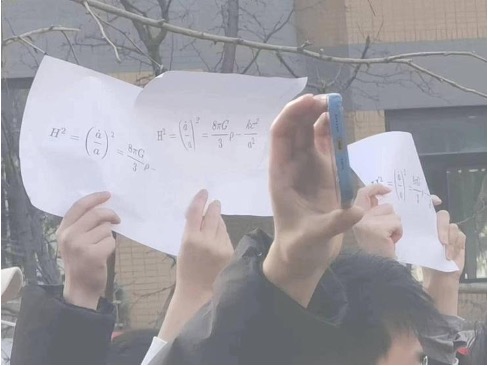 "We don't want masks, we want freedom. We don't want COVID tests, we want freedom," a protester in Shanghai named Shaun Xiao declared. Chinese people have faced difficulties with Xi Jinping's zero-COVID policy for nearly three years since the start of the pandemic. The case numbers of Covid-19 in China have hit significant numbers with nearly 40,000 new infections, leading to more lockdowns in the big cities across the country. The protests in Beijing, Shanghai and Wuhan were triggered by a fire from a residential high-rise building that occurred on 24th of November 2022  in the city of Urumqi, the capital of the Xinjiang region, killing 10 people.
On 26th and 27th of November 2022, a candlelight vigil in Shanghai was organised for victims of the apartment fire in Urumqi that soon turned into a protest against COVID curbs, with the crowd chanting calls for lockdowns to be lifted. The police began to arrest people for no reason, subsequently leading to protesters demanding basic human rights. They chanted "Down with the Chinese Communist Party, down with Xi Jinping".
It is important to note that widespread public protest is a rarity in China, owing to the heavy and serious punishments. Xi Jinping would employ the military to intervene in case the protests were to become more serious. A similar strategy to what Deng Xiaoping, former Chinese paramount leader (1978-1990), used in order to end the 1989 protest in Tiananmen Square.
In these protests, the main human rights issues are the right to associate and freedom of expression. Many protesters brought blank white pieces of paper to protest against censorship. Other students from Tsing Hua University, the prestigious school where Xi Jinping studied, complained that they played cat-and-mouse with censors by showing the Friedmann equations on papers that could be read as "Free Man." In some regions, the internet connection has been interrupted to stop people from accessing news regarding protests.
Geneva International Centre for Justice (GICJ) expresses concern about the basic human rights of Chinese people, especially the right to associate and freedom of expression. The police violently repress all protests and arrest them arbitrarily. We urge the Chinese government to reconsider the censorship policy to respect the right to access to information and the right of every individual to seek and obtain information held by public authorities.
China, Right to Associate, Freedom o fExpression, Protests, Zero-Covid Policy, Human rights, Geneva4Justice, GICJ, Geneva International Centre for Justice, Justice
---