By: Nora Futtner/GICJ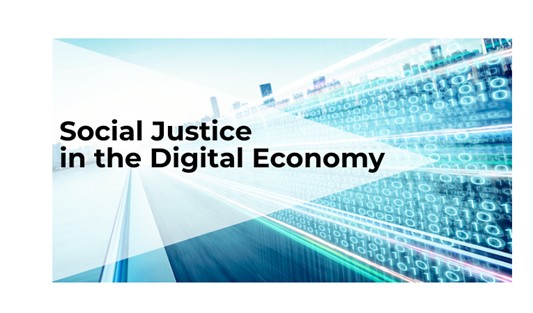 On November 26th, 2007, the United Nations General Assembly established that World Day of Social Justice will be celebrated annually on February 20th. This year, in keeping with the current challenges created and exposed by the ongoing COVID-19 pandemic, the theme is "A Call for Social Justice in the Digital Economy."
Last march, the health dangers of face-to-face interaction forced many businesses around the world to go digital with their workforce. As the pandemic continues, and is now entering its second year, digital work environments have transformed from a temporary solution into a permanent reality. There have been many lessons learned during this process, including the pros and cons of this new method of work.
One positive impact of online work is the opportunity for individuals to enter the workforce who would not have the availability to work full-time in an office, including mothers, people with disabilities, young people, and migrants and refugees. It gives people an opportunity to work when they can, including outside of regular business hours. During the COVID-19 lockdowns, this was especially critical, because families with young children needed the availability to care for their children who were in online school. Working from home has also been linked to an increase in productivity, even among "knowledge workers" whose outputs are more subjective and therefore more difficult to track.[i] In this way, transitioning to a digital economy could be a tool to reduce inequality and broaden the workforce, effectively increasing social justice.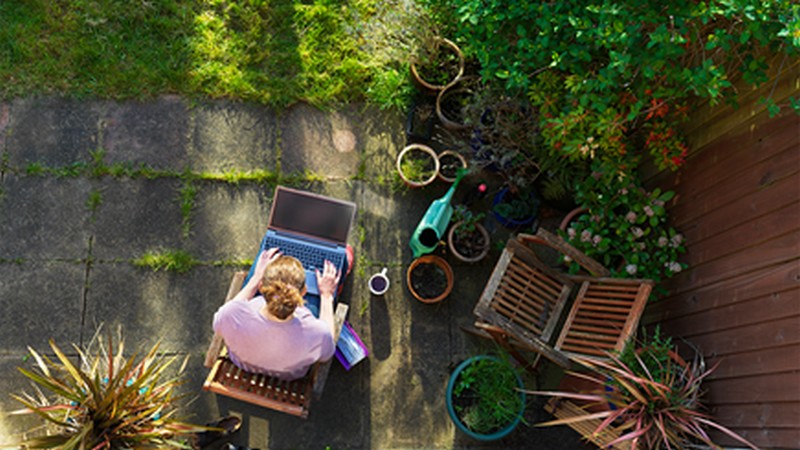 Gary Yeowell/Getty Images
However, the reality of working home has fallen short of its potential. First, it has exacerbated existing gender inequalities. Women, who often carry the burden of childcare in families, have reported struggling to maintain a healthy work/life balance while working from home. Childcare and domestic duties, coupled with the stress of being expected to maintain normal workhours, have forced many women around the world to quit their jobs.[ii] It is key to address this reality that has come hand in hand with the influx of online work.
The digital economy is based in fast and efficient online connection among people and businesses. Individuals and businesses who lack financial resources and operational capacity to keep up with needed technology are often left unable to compete. When business went online in March, people who were already accustomed to technology rushed to buy laptops with better cameras for Zoom meetings and subscribe to faster WIFI for their home-offices. Larger business, many of whom were already leaning toward online work before the pandemic, had the budget and institutional competency to purchase the necessary technology to transition their workforce online. Workers and small and medium business without disposable income struggle more with the logistical constraints associated with working from home.
It is also important to recognize that many communities around the world lack access to reliable digital infrastructure, especially in the global south. In 2018, 80% of Europeans had reliable internet, as opposed to less than 25% of people living in sub-Saharan Africa. Europe is the region with highest internet usage, while Africa is the lowest.[iii] It is estimated that 47% of the world's population do not use the internet, mostly due to no or inadequate availability of a mobile network.[iv]
Further, in places with limited technological availability, it is also more expensive. According to data from the International Telecommunications Union, "in 19 of the least developed countries, the price of 5GB of fixed broadband is more than 20 per cent of monthly gross national income per capita."[v] Business trying to thrive in such an environment with little to no digital infrastructure must overcome nearly insurmountable challenges to even access the digital economy. During the continuing COVID-19 restrictions, exclusion from digital work and markets likely portends the end of a business.
While the coronavirus pandemic will likely recede in 2021, digital work is probably here to stay. Companies like Twitter and Facebook have announced that the majority of their workforces will be allowed to work from home indefinitely. Addressing the inequalities within the digital economy, and helping digital work and business live up to its potential as an equalizer and opportunity-creator is crucial.

United Nations Secretary-General's Roadmap for Digital Cooperation
In June 2020, just a few months after the first coronavirus lockdowns created an upsurge in digital work platforms, the United Nations Secretary-General António Guterres unveiled the "Roadmap for Digital Cooperation." This document is based on recommendations from the Secretary-General's High-Level Panel for Digital Cooperation which took place from 2018-2019 and was informed from discussions with stakeholders from government, academic institutions and civil society. The report outlines a set of eight actions which can be taken by stakeholders to guide their policy and ultimately increase social justice in the digital economy. The actions are:
| | | | |
| --- | --- | --- | --- |
| | Achieving universal connectivity by 2030 | | Ensuring the protection of human rights in the digital era |
| | Promoting digital public goods to create a more equitable world | | Supporting global cooperation on artificial intelligence |
| | Ensuring digital inclusion for all, including the most vulnerable | | Promoting trust and security in the digital environment |
| | Strengthening digital capacity-building | | Building a more effective architecture for digital cooperation [vi] |
Background on Social Justice

'Social Justice' is a political and philosophical theory that seeks to promote equal access to wealth and opportunities for all individuals in a society. The concept of social justice first came into use in relation to class differences seen in 19th century Europe. At the time, owing to the rampant exploitation of human labor and class inequality which presented itself in most European societies, social justice advocates were concerned with economic matters. As time went on, the concept of social justice has largely moved away from an emphasis on class divisions and toward other causes of inequality in society, such as race, sex, gender, ethnicity or religion.[vii] Actions toward increasing social justice can and should be pursued on local, national, and international levels, and in private, public and civil sectors.
On the international level, social justice is a fundamental pillar for fulfillment of the principles of the United Nations, especially with regard to human rights. When we defend these principles, we fight for the promotion of a peaceful and prosperous society with sustainable development, respect for the environment, the rights of men and women, children, migrants, and refugees, as well as with the elimination of the burdens people face due to gender, age, race, ethnicity, religion, culture or disability.  The United Nations General Assembly recognizes the critical importance of social justice and its interconnectedness to peace and security, human rights and fundamental freedoms.[viii] Social justice is a compass for the promotion of peace, security and human rights in all nations and regions of the world.
Several commitments have been made by states on the international level to promote social justice. The "Declaration on Social Development and Program of Action of the World Summit on Social Development," also referred to as the Copenhagen Declaration, was adopted between the 6th and 12th of March in 1995. This declaration acknowledged that the social problem of inequality exists in every country, and that it creates roadblocks toward achieving sustainable development. In reference to the Universal Declaration of Human Rights of 1948, States Parties to the Copenhagen Declaration recognized that:
...the conviction that social development and social justice are indispensable for the achievement and maintenance of peace and security in our nations and among them. So, social development and social justice cannot be achieved if there is no peace and security or if all human rights and fundamental freedoms are not respected. 
Source: UN Photo/Milton Grant
At the 24th special session of the United Nations General Assembly in June-July 2000, entitled, "World Summit for Social Development and beyond: achieving social development for all in a globalizing world", nations reaffirmed their international obligations, the Declaration of Copenhagen of 1995 and the principles of the United Nations, as well as the need for States to double their efforts in order to guarantee development in adequation with social justice.
On June 10, 2008, the International Labour Organization adopted the "ILO Declaration on Social Justice for a Fair Globalization," built upon the previous principles and policies of the ILO which were articulated in the Philadelphia Declaration of 1944 and the Declaration on Fundamental Principles and Rights at Work of 1988. The declaration promotes the achievement of four objectives: employment, social protection, social dialogue, and fundamental principles and rights at work. With the adoption of this text, 187 member states reaffirmed their commitment toward achieving progress and social justice in the context of globalization.[ix]
It should be noted that these documents were drafted far before the onset of the global technological revolution and the reliance on the digital economy that has been brought about by COVID-19. The prevalence of technology requires new international agreements on how to address social justice in these spheres.
GICJ's Position
Geneva International Center for Justice (GICJ) believes that recognizing the importance of social justice to achieve human rights and fundamental freedoms for all is essential to guarantee fair and equal societies. The goal of the international day of social justice is to raise awareness for people and governments to fight together to achieve an equal, fair, and dignified life for all. This year's theme specifically aims to foster dialogue with stakeholders, including member states and relevant UN institutions to overcome the digital divide and address inequalities within the digital economy that have been exposed by the COVID-19 pandemic. Despite current difficulties, GICJ believes that there is great potential for the digital economy to advance social justice and has provided some recommendations below that will promote this goal.
GICJ's Recommendations
All States should take steps to Implement the eight action-areas articulated in the Secretary General's "Roadmap for Digital Cooperation."

GICJ would like to specifically highlight the importance of achieving universal connectivity, to ensure that everyone has access to the digital economy.

Continue dialogue between stakeholders at all levels with regards to efforts toward monitoring and regulating online work, so that it abides by international labour standards. This applies especially part-time and flexible contracts and novel location-based platforms which are not currently subject to the same regulations as traditional business.
Ensure equality, especially in terms of salary and promotional opportunities, between those who choose to remain working from home and those who return to the office.