By Hadil Hammami / GICJ
June 19th marks the eighth International Day for the Elimination of Sexual Violence in Conflict since the United Nations proclaimed it. The day aims to raise awareness, put an end to conflict-related sexual violence, honour the victims and survivors of sexual violence around the world, and pay tribute to all who lost their lives standing up for the cause  [1]. 19 June 2008 marks the day the United Nations Security Council (UNSC) resolution was adopted and condemned sexual violence as a tactic of war and an impediment to peacebuilding [2].
Conflict-Related Sexual Violence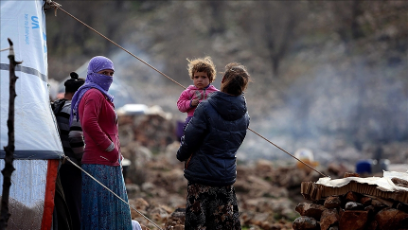 The UN's definition of conflict-related sexual violence includes rape, forced prostitution, forced pregnancy, forced abortion, enforced sterilisation, forced marriage, and sexual exploitation of women and children in conflicts is one of the most common injustices that the international community has failed to address. Presently, victims and survivors still find it difficult to come forward due to ineffective justice systems and fear of stigmatisation, reprisals, and exposure to violence. 
According to the S/2022/272, 97% of sexual violence is committed against women and girls and most of the survivors have limited access to legal, health, and psycho-social services resulting in psychological stressors that continue to torment victims of abuse [3]. 
19 countries have been identified as regions facing high conflict-related sexual violence. Most particularly Colombia recorded 293 cases of conflict-related sexual violence.
Palestine has been facing sexual violence and harassment since the beginning of the Israeli occupation.  Numerous testimonies of Palestinian women depict Israeli soldiers' brutal and unjustified actions. Many women came forward and spoke about instances of harassment, rape, and sexual assault, all perpetrated by security forces [4].
Sexual violence in Ukraine
In light of the 2022 Russian invasion, Ukrainian women and children have spoken out against sexual harassment and rape committed by Russian forces. Advocates have also addressed their limited access to appropriate healthcare, hindering their chances of treatment for sexually transmitted infections. In April 2022, Ukrainian President Volodymyr Zelensky proclaimed that investigators had received reports of "hundreds of cases of rape" in areas previously occupied by Russian troops.
 In April 2022, the UN Women Executive Director Sima Bahous, expressed her concerns over this issue at the UNSC meeting on "Maintenance of Peace and Security of Ukraine." She stated that the desperation to flee from the war in Ukraine is fuelling human trafficking [5]. Bahous further identified young women and unaccompanied teenagers as the most vulnerable to sexual violence. Accordingly, she requested all countries to strengthen their efforts to combat human trafficking.
Geneva International Centre for Justice (GICJ) condemns all forms of sexual violence during a conflict, and identifies it as an extreme violation of human rights. We remain committed to defending the rights of women and girls all over the world and call on the international community to act collectively. GICJ condemns perpetrators of sexual violence, and we encourage all survivors to come forward and hold perpetrators accountable for their crimes.
Sexual Violence, Women's Rights, Women, Conflict, Ukraine, Justice, Human Rights, GICJ, Geneva4justice, Geneva International Centre For Justice
---
[1]https://undocs.org/Home/Mobile?FinalSymbol=A%2FRES%2F69%2F293&Language=E&DeviceType=Desktop&LangRequested=False
[2]https://undocs.org/Home/Mobile?FinalSymbol=S%2FRES%2F1820(2008)&Language=E&DeviceType=Desktop&LangRequested=False
[3]https://undocs.org/Home/Mobile?FinalSymbol=S%2F2022%2F272&Language=E&DeviceType=Desktop&LangRequested=False
[4]https://www.middleeasteye.net/features/palestinian-women-haunted-abuse-israeli-jails
[5]https://www.securitycouncilreport.org/whatsinblue/2022/04/ukraine-briefing-7.php