Geneva International Centre for Justice (GICJ) strongly agrees with the United Nations' acknowledgement of the "fundamental importance of human rights education and training in contributing to the promotion, protection and effective realization of all human rights."
It is in following with this belief and its desire to contribute to the promotion of human rights that GICJ offers Human Rights Training Courses.
Headquartered in Geneva, the United Nations serves as a central mechanism for much of GICJ's work. GICJ actively participates in UN meetings, including Human Rights Council (HRC) and Universal Periodic Review (UPR) sessions. Our input and participation varies depending on the session, but includes important activities such as submitting written statements, delivering oral statements and organizing side events.  In addition to our participation in HRC sessions, GICJ works extensively with UN Special Procedures. We meet with relevant mandate holders when necessary; inform them of cases of human rights violations and write urgent appeals. Our location and work with the UN provides participants a unique experience to learn about the workings of both international organizations and non-governmental organizations.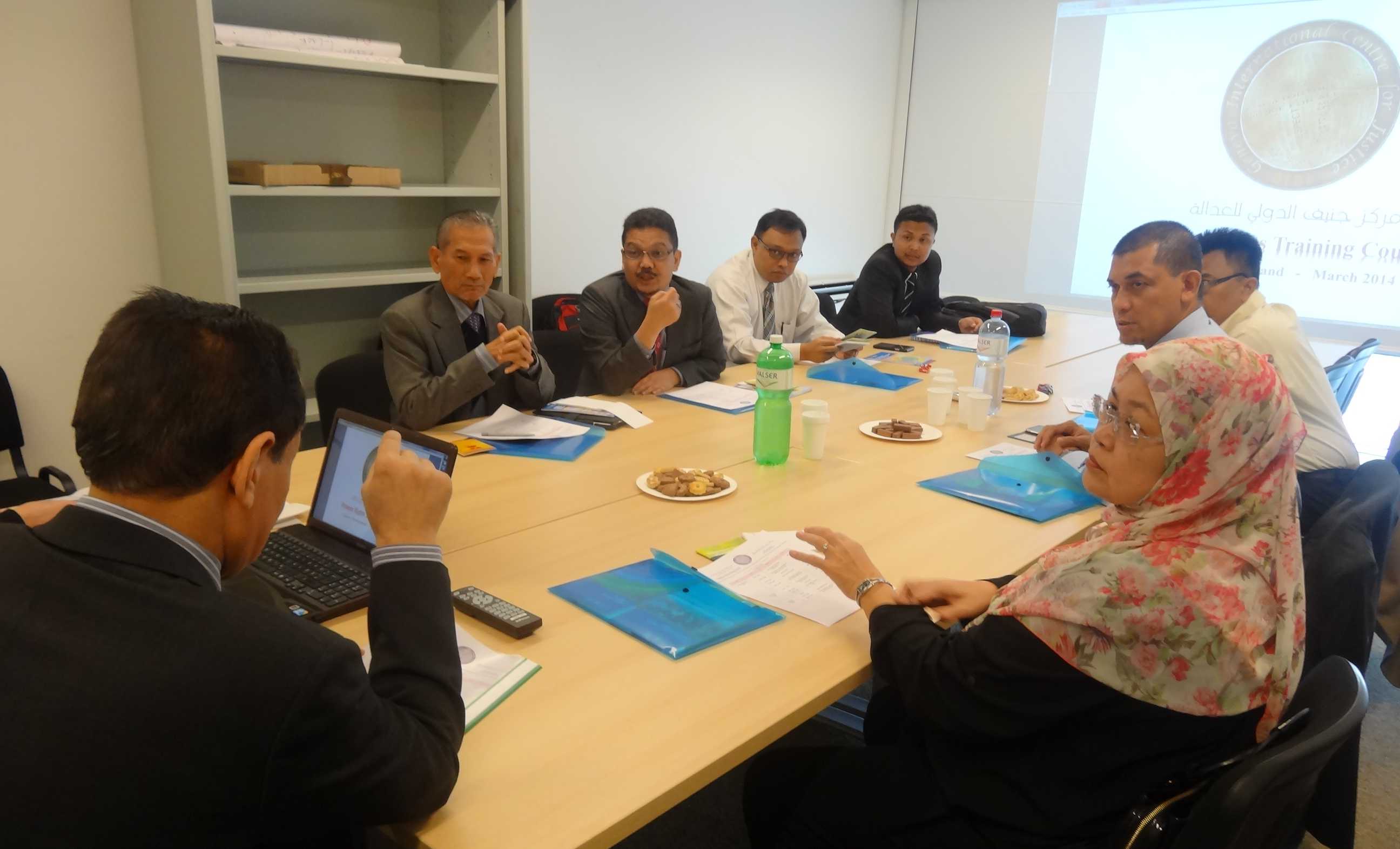 About the Training Course
Human rights lie at the core of the training course, but the training also brings together a diverse array of subjects relevant to human rights and their integration into diplomacy and international and multilateral relations. During the course participants will learn about human rights law, the United Nations and civil society.
The training will include a theoretical and practical component. Amongst other subjects, the theoretical aspect will include information on human rights; the UN, its history, bodies and mechanisms, including the Office of the High Commissioner for Human Rights; international law instruments; and the rules and mechanisms for civil society and their participation.
The practical portion of the training will include attending the meetings and sessions and depending on the length of the training, may include taking part in the organizing and execution of a side-event. An integral part of the training will focus on teaching participants how civil society contributes and interacts with the UN and its bodies. The main body examined throughout the training will be the Office of the High Commissioner for Human Rights, under which one finds the Human Rights Council, the Universal Periodic Review, the Treaty Bodies and the Special Procedures.
With regards to the Human Rights Council sessions, trainees will learn the procedures for preparing, submitting and delivering written and oral statements. For the Universal Periodic Review and the Treaty Bodies, participants will be taught how civil society can submit information to be included in the reports for these sessions, as well as how to lobby Member States to ensure that their organization's issues and concerns are addressed by States in their recommendations. Participants will also learn how to interact and work with the Special Procedures, which are an invaluable instrument to the work of GICJ and all civil society. There are currently 49 special procedures covering all aspects of human rights. Trainees will learn about these special procedures, their mandates and how to address cases and concerns to mandate holders through various forms of communication such as letters of concern, urgent appeals and in-person meetings.
Who Should Participate in the Trainings?
The training course is open to those who have an interest in human rights, the United Nations and its human rights bodies, and the role of civil society within these bodies. Whether you are a student, recent graduate, a professional, or just someone who wants to learn more about these topics, this training will provide you with useful and valuable knowledge.
Training Session Options
Training sessions are available for periods of one, two, three or four weeks. Individuals wishing to participate for a period of more than four weeks may do so, but will have to meet additional criteria as the training would then be considered as an internship.
Training sessions are offered throughout the year and are scheduled to coincide with the Human Rights Council sessions, the Universal Periodic Review, as well as Special Procedures and Treaty Body meetings. This is done in order to provide participants with a first-hand experience of these mechanisms by allowing them to attend the meetings, their respective side-events, and seeing how civil society organizations participate in, and contribute to, their work.
The Human Rights Council holds three regular sessions per year. They take place in February/March (four weeks), June/July (three weeks) and September (three weeks).
The Universal Periodic Review also holds three sessions per year. They take place in January/February, April/May and October/November.
Human Rights Council Special Procedures are independent experts who have mandates to report and advice on human rights. Their mandates may be thematic or country-specific. Special procedures report to the HRC on an annual basis and many must also report to the General Assembly, depending on the mandate.
The Treaty Bodies are committees comprised of independent experts. These experts are tasked with monitoring the implementation of core human rights treaties. Currently there are ten human rights treaty bodies including the Committee against Torture (CAT) and the Committee on Enforced Disappearances (CED). All of the treaty bodies meet in Geneva.
Certificate of Completion
All participants who attend the full training session will receive a Certificate of Completion from GICJ.
Registration Information
If you are interested in participating in one of our training sessions, please fill out the Training Application Form below and send it to us along with the required supplementary documents. In order to provide a more beneficial experience to trainees, the number of participants for each session will be limited. Applications will be accepted on a rolling basis, but early applications are encouraged.
*Please be aware that depending on nationality, some participants may be required to obtain a visa to enter Switzerland. Participants should confirm visa requirements directly with the Swiss consulate in their country of residence as GICJ will not get involved at any stage in the visa application process.
Training Session Costs
Training costs vary depending on the duration of the session. For more information on program costs, please email us at This email address is being protected from spambots. You need JavaScript enabled to view it. with "Human Rights Training" in the subject line.
Please note that participants will be responsible for all expenses related to the training including, but not limited to travel arrangement, accommodation, board and medical insurance.
---