International Day for the Eradication of Poverty -17th October 2023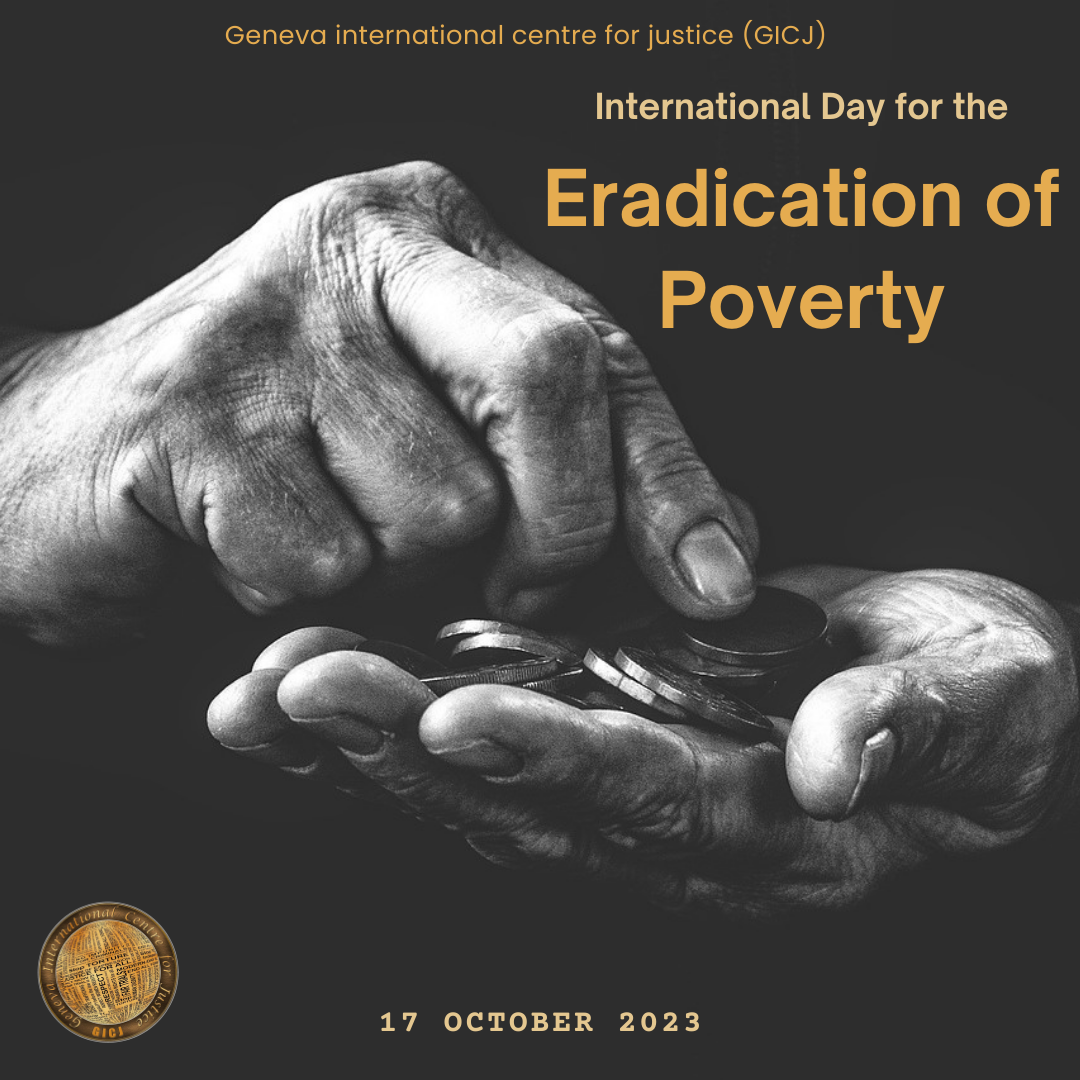 By: Symone McCollin-Norris / GICJ


Introduction 
On this day each year, the world comes together to observe the International Day for the Eradication of Poverty and is reminded of the shared commitment to eliminate poverty in all forms. Despite unprecedented levels of economic development, technological innovation, food production and opportunities for income generation, millions of people around the world are left behind and continue to suffer from extreme deprivation. The impact of the COVID-19 pandemic has reversed three decades of steady progress and for the first time in a generation, the number of people living in extreme poverty globally is increasing. In the face of climate change, conflict, and the cost-of-living crisis, the strengthening of national, regional and global efforts to eliminate poverty in all its forms is of utmost urgency now more than ever. Notably, poverty reduction is the very first of the United Nations Sustainable Development Goals (SDGs) presumably as all development and humanitarian improvement hinges on the advancement of human capital and prosperity. Against this backdrop, it is no surprise that implementation progress of SDG 1: No poverty is under in-depth review during the United Nations global fora on sustainable development in 2024. 
Understanding the Global Challenge
The theme of the 2023 International Day for the Eradication of Poverty centres around decent work and social protection as a means to uphold human dignity for all people. As many countries are still reeling from the adverse impacts of the pandemic and families are struggling to keep up in the global cost-of-living crisis, improved working conditions, fair wages, and enhanced employment and social protection are absolutely vital to combating poverty. Understanding the drivers of poverty is key to steering agents of change, such as civil society and policy makers, toward holistically tailored approaches to unlock powerful solutions for the effective eradication of poverty.
Poverty is multidimensional
Traditionally, poverty is measured by assessing income or resource levels. For example, extreme poverty is commonly defined as living on less than USD 1.90 a day per person. Income poverty thus does not account for many other dimensions and drivers of poverty.
Beyond financial deprivations, poverty is multidimensional. In other words, poverty is reinforced and reproduced by multiple overlapping and intersecting aspects including access to health, education, opportunity, security, and justice. In some cases, families may have a reasonable income, but if they lack access to clean water and electricity, their overall well-being is still compromised. Individuals, families and entire communities suffering from multiple simultaneous dimensions of poverty are often overlooked. 
Poor employment conditions and inadequate social protection
Some of the world's poorest communities are also disproportionately exposed to low wages, unsafe working conditions, poor job security, and exploitation. Further exacerbating this vulnerability is the issue of little to no access to employment benefits, healthcare, and justice to hold employers to account. In this way, poor communities bear the brunt of economic shocks the hardest. With low incomes restricting their financial freedom, deteriorating health induced by hazardous conditions, and prevailing exploitation which keeps people where they are, many families face difficult decisions between putting food on the table, enrolling their children in school, or paying for medical care. These factors perpetuate economic hardships and hinders individuals from breaking cycles of poverty. 
Poverty hinders access to justice
Despite being the most exposed to exploitation within the workforce, people experiencing extreme poverty are the least likely to seek legal services or justice. The lack of accountability within harmful employment practices also works to reinforce deep-seated economic disparity. Evidently, financial constraints hinder poorer workers from paying expensive and exhaustive legal fees. Poverty also impacts the ability for people to meaningfully participate in decision-making platforms and processes. With limited access to education, books, or the internet, poverty can hinder individuals' ability to engage in informed decision-making. Low levels of effective civic engagement effectively leads to underrepresentation within public life leaving many communities behind in public policy dialogue and outcome. 
Key Steps to Eradicating Poverty
Despite these challenges, there are a number of actions that national governments, civil society, international organisations and everyday people can take to promote the eradication of poverty. 
Reshape policies to consider multiple dimensions of poverty:

social protection policies geared at addressing the issue of poverty should take into account the numerous factors which reinforce and reproduce poverty simultaneously beyond economic measures alone. Understanding the interlinkages between multiple dimensions of poverty and addressing nuances of deprivation is a much-needed first step forward in understanding and combating poverty in all its forms.  
Support workers rights:

individuals can raise their voices against exploitation and unfair labour practices, while governments can strengthen labour laws and enforcement measures. Governments should also collaborate with the private sector to ensure alignment with labour legislation. 
Widening the civic space:

The barrier to access to justice and public life debilitates poor communities from shaping policies that promote their interests, reinforces power inequality, promotes impunity and weakens faith in mechanisms for justice and public life. Advocating for the widening of civic space helps promote inclusivity within decision-making. 
Geneva International Centre for Justice (GICJ) stands strongly in solidarity with efforts and advocacy to eradicate poverty in all its forms, everywhere. We urge governments, the private sector, and civil society to do their part in protecting human wellbeing and prosperity. GICJ aligns with the notion that people have the inalienable right to decent work, fair wages, and safe working conditions. On this International Day of Eradicating Poverty, GICJ hopes that progress on poverty reduction can be regained and accelerated. 
---
#InternationalDayfortheEradicationofPoverty #poverty #GlobalGoals #SDG1 #decentwork #Human Rights, #Geneva, #geneva4justice, #Justice, #GICJ,  #GenevaInternationalCentreForJustice