By Louise Requin / GICJ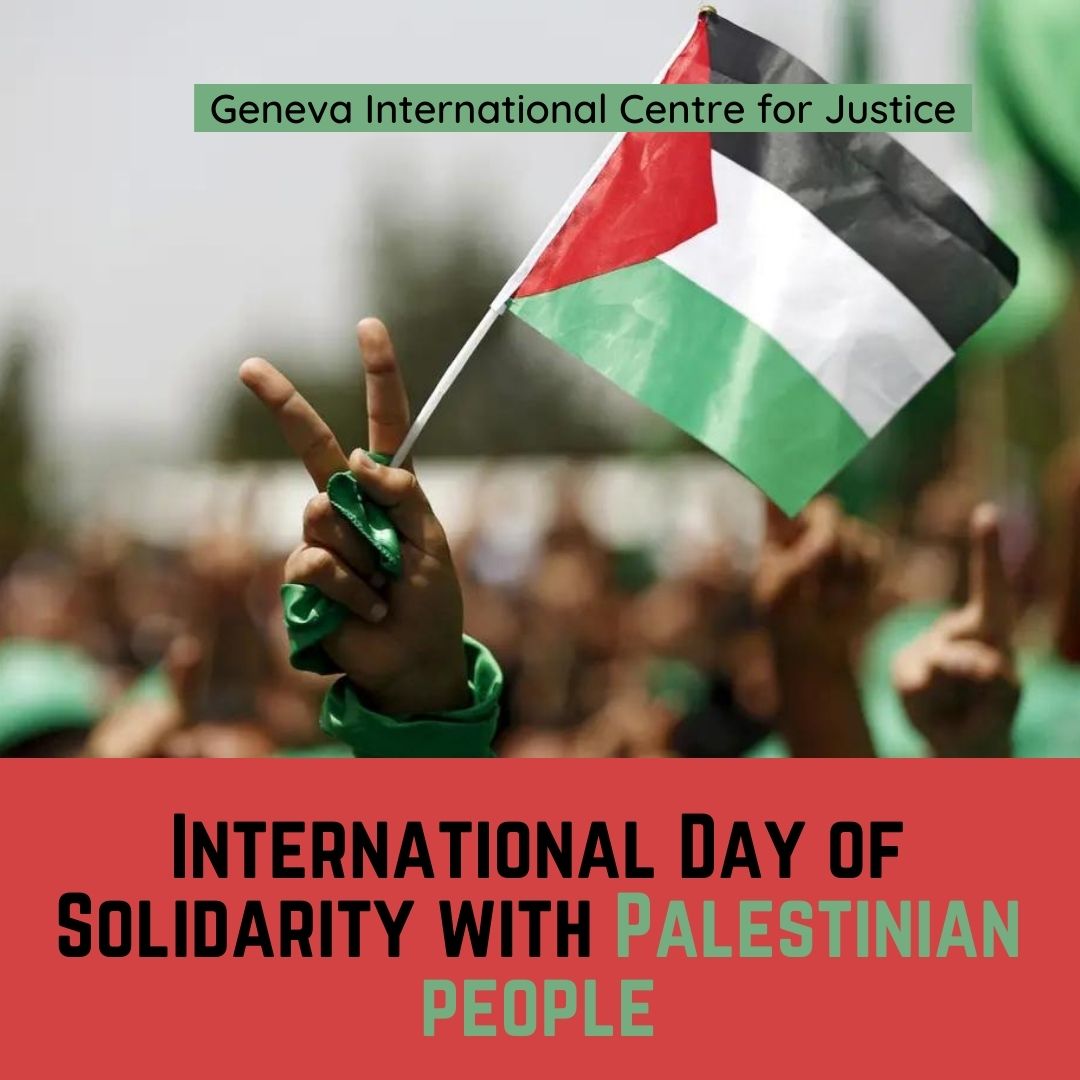 On November 29, we observe the International day of Solidarity with the Palestinian people. This date marks the anniversary of resolution 181, which advocated for the partition of Palestine into two states.  
We use this opportunity to remind the international community of the importance of achieving the liberation of Palestine, a promise it has failed to keep. Palestinian territory continues to be occupied by Israel, with the acquiescence of the international community. This status has failed to guarantee the sovereignty of Palestine and its full independence. It has also prevented the respect for Palestinians' human rights.
Israel's expansion into Palestine continues every day. Settlers oust Palestinian residents of Jerusalem, violently and illegally seizing their property. In rural areas, Israeli settlers drive Palestinians out by all means they find necessary, including ruining their crops or muddying their water, all in order to seize their land and annihilate their livelihoods. Illegal settlements are illegal under international law, yet they are met with indifference and inaction. Furthermore, the occupant fails to provide Palestinians with an adequate standard of living and deprives them of essential resources such as clean water, sanitation or power. The latter constitutes another breach of international humanitarian law.
Israel is restricting the political and civil liberties of Palestinians. Palestinian citizens of Israel live under a system of apartheid, and are subjected to different laws than the rest of the population. Laws prohibit Palestinians from keeping their properties while they allow Israelis to seize them. Forced transfers and forced evictions serve the policy of ethnic cleansing Israel is carrying out against Palestinians. Israel uses the war they wage against Palestinians as a foundation for the national cohesion of Israel.
Israel's war on Palestine can only be met with resistance. The Palestinian people are not waging war on Israel so much as they are fighting for their survival. Palestinians in Israel today are expected to flee, without hopes for return, or to die. Under such circumstances, we urge the international community to hear the following:
Today, we must all stand in solidarity with Palestine. The nation's right to sovereignty was enshrined in law and has been trampled by Israel and the indifference of its allies. The conflict today has led to breaches of international law, war crimes and the pursuit of a policy of ethnic cleansing. Against all of the above, the international community has failed to take appropriate action.
Geneva International Centre for Justice stands in solidarity with Palestinians. We demand the liberation of Palestine, the end of Israeli occupation, the end of settlement expansion. We ask the UN and the international community to unanimously condemn the violations committed by Israel, actions it would not tolerate from any other party. GICJ encourages international investigations into the Israeli settlement, the deprivation of water, and the indiscriminate shelling of Palestinians. We urge the UN and the international community to understand that Palestine has no other option than resistance.
 Justice, Human rights, Geneva, geneva4justice, GICJ, Geneva International Centre For Justice