CLIMATE CHANGE IN THE PACIFIC, THE PRIORITY
By Augustine Sokimi
Pacific Champions
Stating that climate change is a priority in the Pacific feels like an understatement. Perhaps it is more accurately considered "the priority" for the Pacific, particularly Pacific Small Island Developing States ('PSIDS').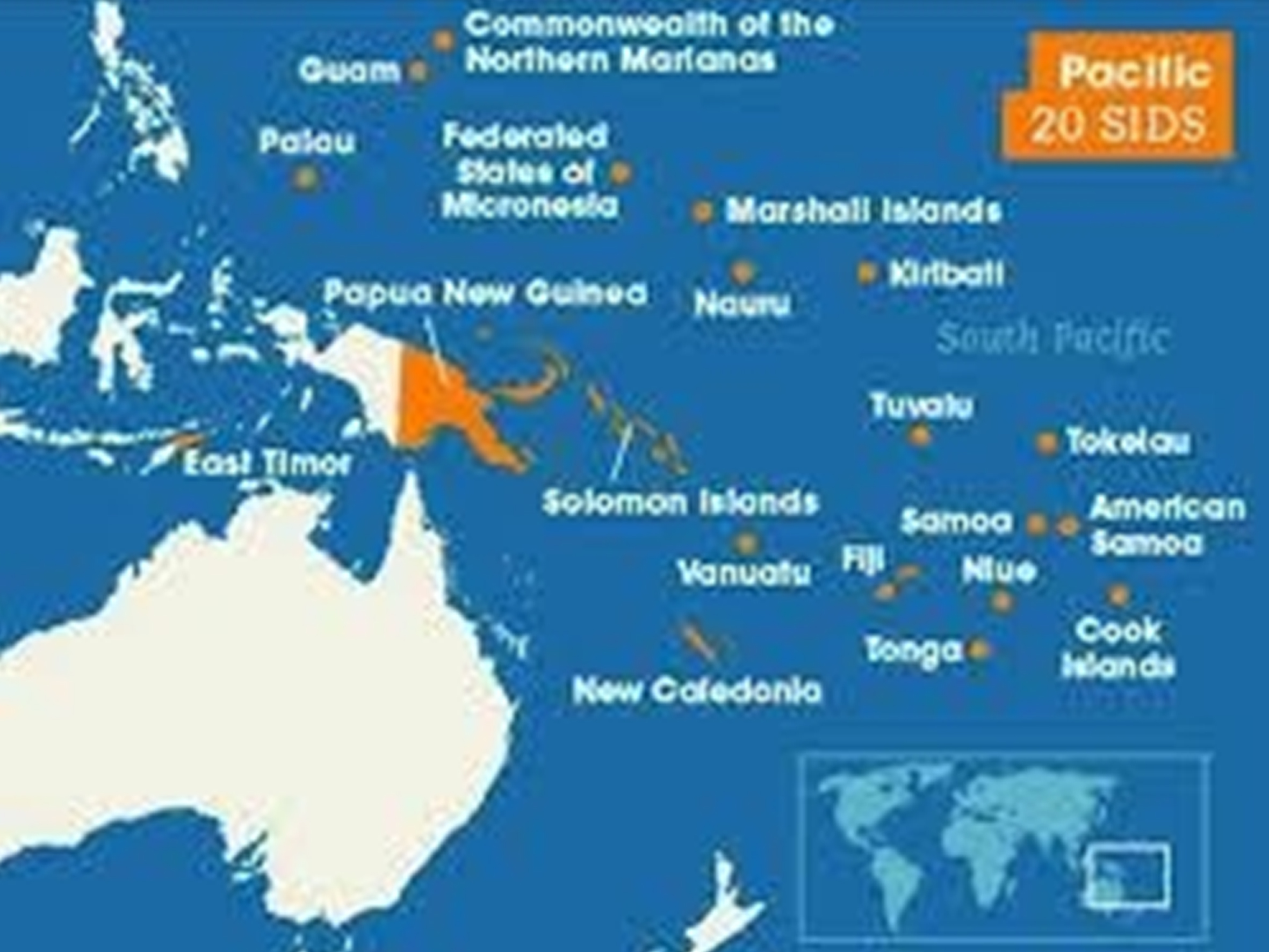 Map depicting Pacific Small Island Developing States
PSIDS have many champions of the climate change cause. The late former Foreign Minister of the Marshall Islands, Mr. Tony deBrum (served from 1979 to 1987, from 2008 to 2009 and from 2014 to 2016), will forever be remembered for his leadership in the formation of the "High Ambition Coalition" between developed and developing states at the 21st session of the Conference of Parties to the United Nations Framework Convention on Climate Change  ('UNFCCC') (30 November to 12 December 2015). 
Source: National Public Radio (npr), 9 December 2015, taken by Rob Griffith - A boat lies wrecked and stuck on a seawall after it crashed into the back of Mr Tony deBrum's house on Majuro Atoll in the Marshall Islands.
The former President of Kiribati, Mr. Anote Tong, during his tenure in office ( served from 2003 to 2016) and even after, remains a champion of the cause. His climate change story and the impact of climate change on the Republic of Kiribati was captured in the 2018 documentary "Anote's Ark".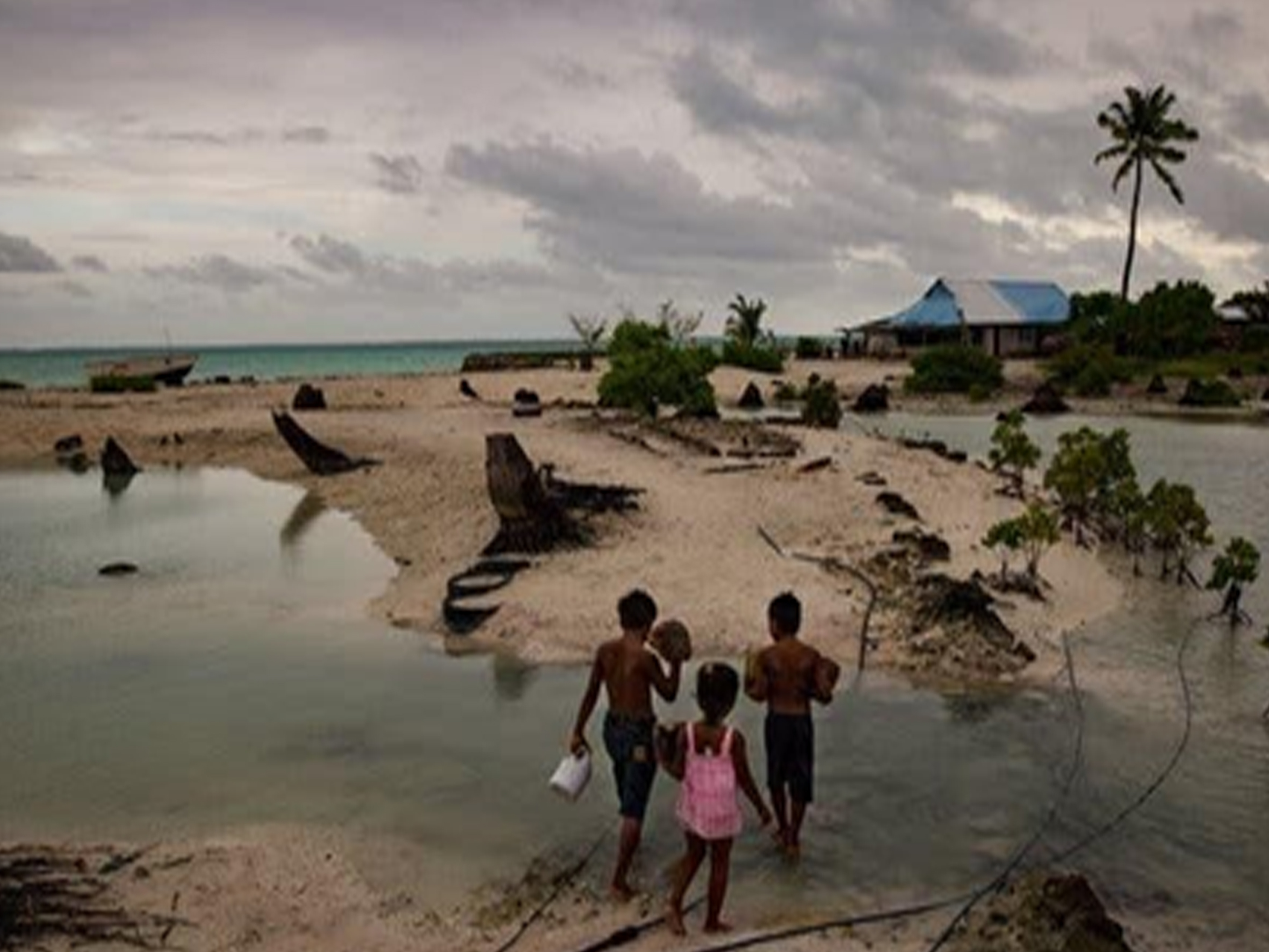 Source: The New York Times, 2 July 2016, taken by Josh Haner – Residents of a village in South Tarawa returning to their homes after the receding of flooding induced from high-tides. 
There  are many PSIDS that share similar experiences as Kiribati, particularly low-lying coral atolls. Other volcanic PSIDS like Fiji, however, are by no means immune. This much has been made clear by the current Fijian Prime Minister, Mr. Josaia Voreqe Bainimarama, another Pacific champion of the climate change cause. Under his leadership, Fiji held the presidency for the 23rd session of the Conference of Parties to UNFCCC ('COP23') ( 6 to 17 November 2017) and has continued to mobilise domestically, regionally and internationally to address climate change and its disproportionate impacts on the most vulnerable in our societies.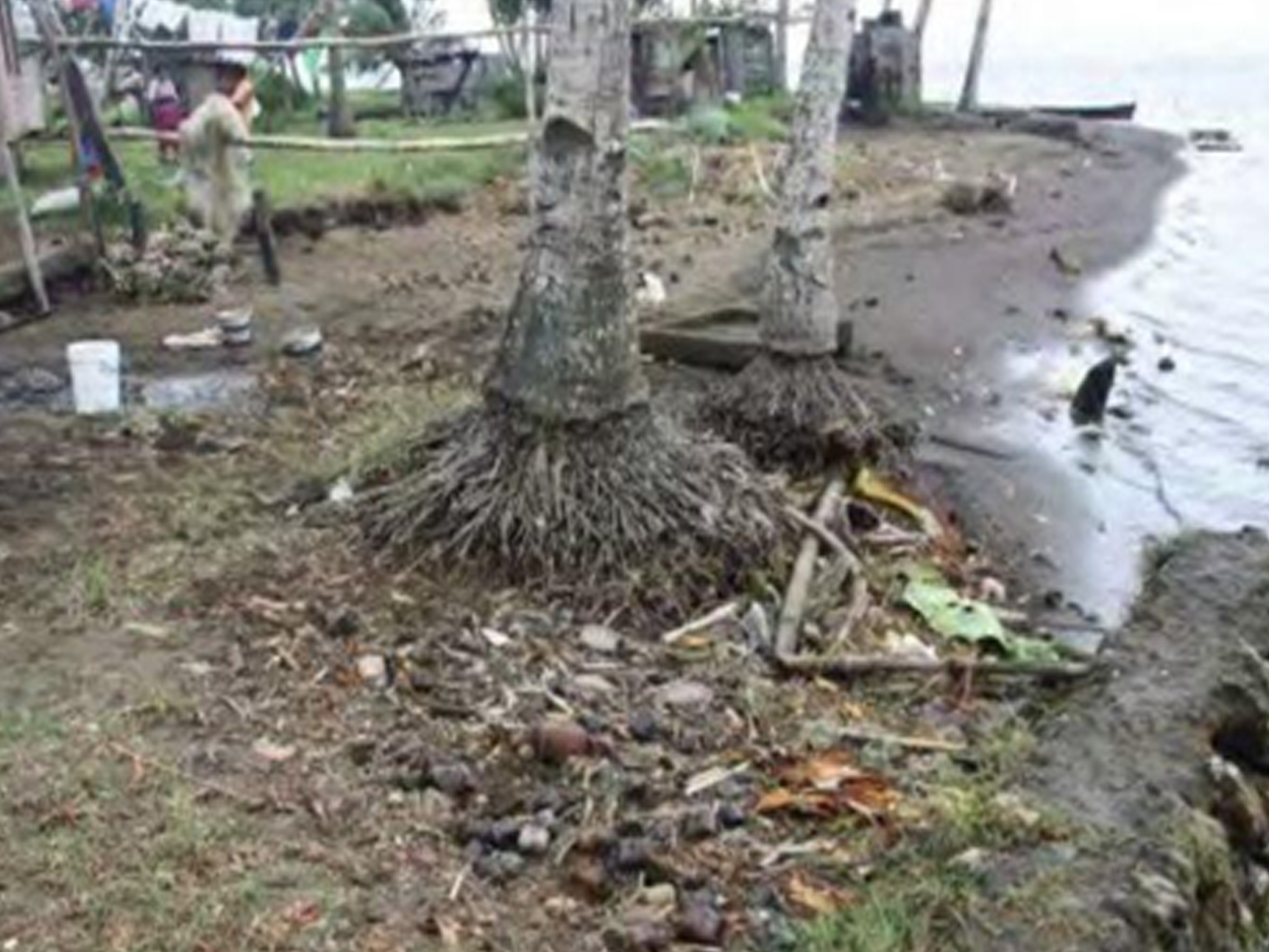 Source: KTH Vetenskap Och Konst, Transformative Humanities blog, 27 January 2020 – Broken seawall at the old location of Vunidogoloa Village, Fiji. The village was relocated inland as Fiji's first major relocation effort due to climate change. 
SIDS Contributions to Combatting Climate Change
Small Island Developing States ('SIDS'), through their advocacy, have been crucial in securing the entry into force of the Paris Agreement on 4 November 2016, and in gaining international recognition of their special circumstances as vulnerable states. SIDS have unequivocally demonstrated leadership in raising ambition to reduce greenhouse gas emissions in order to secure the long-term temperature goal of limiting global warming to below 1.5 °C which gave rise to the slogan "1.5 to Stay Alive", and also in advancing the complex debate on loss and damage.
At COP23, under Fiji's leadership, the rights-based approach was espoused to ensure that the most vulnerable voices were heard within the UNFCCC process going forward. This included decisions on gender equality (Gender Action Plan), indigenous people (Local Communities and Indigenous People's Platform), agriculture (Koronivia Joint Work on Agriculture), and public engagement and training (Action for Climate Empowerment). COP23 also furthered the debate on climate change impacts on health, and our oceans.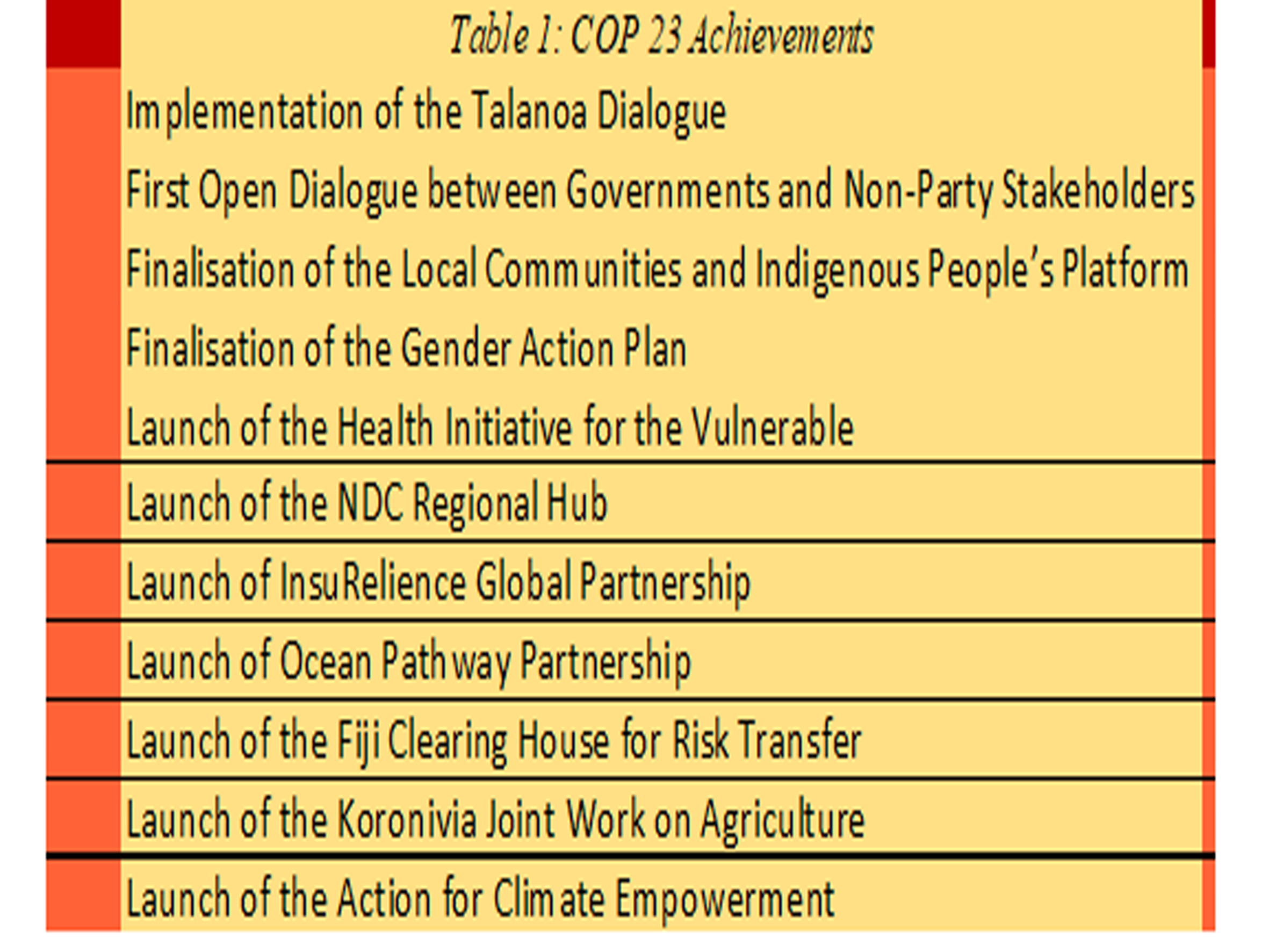 While these are achievements to be celebrated, the fact remains that for PSIDS survival, it is the major emitters who will need to close the emissions gap. With the current commitments of the Paris Agreement, it is projected that temperatures can be expected to rise to 3.2°C this century. With a 1.1°C increase, PSIDS have experienced changes in growing seasons impacting food security, and more severe sudden on-set weather events forcing displacement. Although it is clear that PSIDS must adapt, there are limits to adaptation for biophysical, economic, technological and social systems. Furthermore, the international climate finance architecture in itself may be seen to erect barriers to implementing timely adaptation for PSIDS with a bias towards mitigation. 
Human Rights Council and the Universal Periodic Review
At the Human Rights Council, PSIDS such as Fiji, Solomon Islands, Vanuatu, Nauru and the Marshall Islands have advocated strong and unified positions on climate change. Fiji and the Marshall Islands are current members of the Human Rights Council and have fervently championed climate change advocacy calling for a human rights-based approach in recognition of those most vulnerable. 
The objective has always been to engage and harness greater recognition and cooperation between states in addressing climate change. However, while the advocacy is intended to target states with larger carbon footprints, the recent Universal Periodic Review ('UPR') sessions reveal that PSIDS with low carbon footprints are receiving more recommendations on climate change. 
The U-Turn Dilemma 
The concern noted here is that the advocacy by PSIDS may be having a U-turn effect, with them being encouraged to take action to adapt to climate change instead of achieving the desired impact of directing states to closely scrutinise their own greenhouse gas emissions and hold accountable states with large carbon footprints. It would be unfortunate if the emphasis shifts to developing states adapting to respond to climate change rather than states with large carbon footprints reducing their greenhouse gas emissions through responsible policies and sustainable practices.
Although the advocacy by PSIDS has had a significant impact in raising awareness on climate change, the response to that advocacy requires some guidance and direction. Climate change requires a global response, particularly the cooperation and responsible action of states with large carbon footprints. The priority is ensuring that states take action to reduce their greenhouse gas emissions in accordance with the Paris Agreement. The advocacy of PSIDS calls for states with large carbon footprints to be more responsible, to step up to the mantle, to make the necessary sacrifices, and to reduce their greenhouse gas emissions drastically. States must reflect on their responsibilities in this climate crisis, make appropriate changes to honour their commitment to greenhouse gas emission reduction and further put pressure on states that refuse to toe the line. 
The Need for Constructive Action
Geneva International Centre for Justice ('GICJ') appeals to the United Nations to channel its climate change initiatives constructively to appropriately respond to the climate crisis, and to listen to the true message behind PSIDS advocacy on climate change. The United Nations must be the unified voice of reason, follow the science, and hold states to account. 
GICJ calls on the United Nations to place greater scrutiny on the efforts (or lack thereof) of states towards achieving Goal 13 of the Sustainable Development Goals 2030; particularly, target 13.2 via the integration of climate change measures into their national policies, strategies and planning which guarantee the required reduction in their greenhouse gas emissions.